Machine man: bringing Oskar Schlemmer's Triadic Ballet into the digital era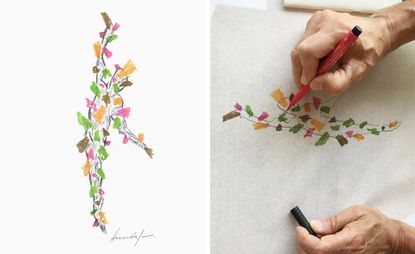 (Image credit: Courtesy of Estudio Campana)
Wallpaper* Newsletter
Receive our daily digest of inspiration, escapism and design stories from around the world direct to your inbox
Thank you for signing up to Wallpaper. You will receive a verification email shortly.
There was a problem. Please refresh the page and try again.
In 1922, German modern artist Oskar Schlemmer debuted his seminal Triadisches Ballett (Triadic Ballet), an avant-garde dance performance in three parts celebrating the emerging industrial era. Nearly 100 years later, film and art director Mafalda Millies and curator and creative director Roya Sachs revisit Schlemmer's concept of 'machine meets man' with Virtually There at the Mana Contemporary, New Jersey. 'Roya and I wanted to invite artists that were very different and dynamic to bring together their interpretations of how man was affected by, in Schlemmer's case, machine culture, and in our case, digital reality.'

Millies and Sachs enlisted Brazilian design duo and brothers Humberto and Fernando Campana to design the costumes, which function as the stage's 'furniture' and inform the choreography. 'The costumes in Schlemmer's case were really important because they changed the way that the dancers moved. He was very concerned with how man acted and reacted in space and he wanted the costumes and the dancer to create a sort of friction that would yield new movements,' says Millies. 'We wanted someone from the architecture and design world, who could make something that did not fit the body, but that was meant to interrupt the body.'
Charged with this request, Humberto Campana took to New York's bustling, gritty Canal Street and started pulling materials such as LED lights, PVC, and inflatable and holographic materials. 'I always start with material I find on the street, and then work it into something more elegant,' says Campana. 'I wanted very contemporary materials that inspire the pop culture of New York.'

Working from Sao Paulo with New York costume designers, Jon Can Coskunses and Simone Duff, he created five costumes in response to Schlemmer's original vision. When combined with the movements by modern dance choreographer Karole Armitage, the costumes' vibrant colours and riotous lines and shapes suggest the mechanical, the natural and even the fantastical.
The dance begins with the Honeycomb Woman, a round red sphere with an accordion-style core that opens to reveal a mirror, playfully encountering the Accordion Man, who shimmies, shakes, and rotates in a holographic corrugated metal-looking suit. Other dancers include the Inflatable Woman, who is dotted with bright inflatable shapes; the Crystal Woman, who is fully adorned in lights and geometric forms and the Inflatable Man, who wears a transparent suit lined with lights that equally resemble neon threads and human veins.

'When you look at Schlemmer's costumes, it is all about the mechanical and the industry, which was very heavy and rigid and mechanic and inconvenient,' explains Sachs. 'Now we are in an age of fluidity, convenience and transparency. So even though there were these three separate acts and you see different characters, first, the two with a playful naivety and lack of awareness, it slowly transitions and there is a new type of harmony where man is digital and digital is man – a new dynamic.'
INFORMATION
Virtually There: A performance inspired by Oskar Schlemmer's Triadic Ballet runs until 22 November. For more information or to purchase tickets, visit the Mana Contemporary website
ADDRESS
Mana Contemporary
888 Newark Avenue
Jersey City, NJ 07306
Receive our daily digest of inspiration, escapism and design stories from around the world direct to your inbox
You might also like
Wallpaper* Power 200: the world's top design names and influencers

It's back with a double helping of provocation and praise. We have plumped up this year's Power List to a meaty two-ton's worth of carefully measured rankings, an upscaled calibration of design achievement. As we strongly suspected, last year's Power 100 caused a considerable stir and provoked strong words. And, as last month's editor's letter made clear, even alarming threats of revenge and recrimination. So this year, unchastened, we thought we would do it all again, but double the dose. To mark our 200th issue, the power 100 has become 200. Or rather 100+100 (normal disservice will be resumed next year). And, in a self-congratulatory nod to our keen eye for talent and perhaps the propulsive effect we have had on nascent design careers, we have trawled the Wallpaper* archives, retraced our expert truffling and recovered the debut appearances of future Power Listers. (Look out for long-lost hair, unlined faces and eyes undimmed).

By Rosa Bertoli Published
View More ▸