Made pure: the Campana Brothers and Stephan Hamel create Fontana Etruria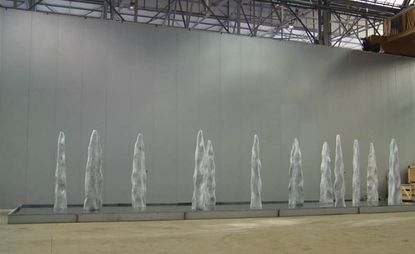 (Image credit: Emanuele Marzi)
Marble is one of those materials that carries a certain gravitas. Its hefty weight helps, of course, but there is also a long legacy that harks back though time.

One man with a deep passion for the portly material is Stephan Hamel. 'My grandfather, Cosimo Lorenzoni, was a marble specialist – he was famously behind the black marble memorial created for Mahatma Gandhi in Delhi – and my family comes from [the region of] Pietrasanta, which through the centuries has been home to the highest calibre [of] marble sculpture.' It was during a visit to the hallowed (sourcing) grounds of Michelangelo that the Campana Brothers and Hamel decided to team up to create a fountain of epic proportions – the Fontana Etruria.

'To me the Campana Brothers represent this new movement in marble sculpture,' explains Hamel. Rather than channelling the smooth surfaces of Michelangelo, the Brazilian brothers created a rugged terrain of 12 towering menhirs, or plinths, some over 2m in height.

'The name of the fountain came from the Etruscans,' explains Fernando, the younger of the two Campanas. 'The 12 pillars of the fountain are named after the Etruscans' 12 cities.'

From each 'pillar' water flows freely, powered through a complex hydraulic system, seemingly sculpting its own way down the inverted icicles, themselves made from the finest Carrara marble in precious Cardoso grey.

'The material is the conductive line here,' explains Humberto, who speaks passionately about his desire to work as a sculptor, rather than a designer, on this particular occasion. 'It is a very organic project, with strong connections to nature. I lived in Rome a few years ago and was moved by the countless classic fountains and drinking water sources you can find in each corner of the city,' he adds when speaking of the cleansing, healing and spiritual powers he associates with water.

Created as a limited edition of five – one for the Campana Brothers, one for Stephan, and three for sale – the hope is that it will become one of those classic fountains Humberto so admired. For now, it remains in Tuscany, near to its source.
'To me the Campana Brothers represent this new movement in marble sculpture,' explains Hamel. The Brazilian brothers created a rugged terrain of 12 towering menhirs, or plinths, some over 2m in height
INFORMATION
Photography: Emanuele Marzi
You might also like
Wallpaper* Power 200: the world's top design names and influencers

It's back with a double helping of provocation and praise. We have plumped up this year's Power List to a meaty two-ton's worth of carefully measured rankings, an upscaled calibration of design achievement. As we strongly suspected, last year's Power 100 caused a considerable stir and provoked strong words. And, as last month's editor's letter made clear, even alarming threats of revenge and recrimination. So this year, unchastened, we thought we would do it all again, but double the dose. To mark our 200th issue, the power 100 has become 200. Or rather 100+100 (normal disservice will be resumed next year). And, in a self-congratulatory nod to our keen eye for talent and perhaps the propulsive effect we have had on nascent design careers, we have trawled the Wallpaper* archives, retraced our expert truffling and recovered the debut appearances of future Power Listers. (Look out for long-lost hair, unlined faces and eyes undimmed).

By Rosa Bertoli • Published
View More ▸