Collective concepts: the W* picks from Collective Design Fair 2016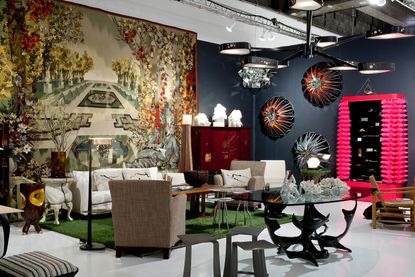 (Image credit: Clemens Kois)
On what is a busy week in New York's design and art calendars, Collective Design launched its much-anticipated annual fair at the Skylight Clarkson Square, just west of Soho. Now in its fourth year, the fair features 31 international galleries that focus on collectible design, including Johnson Trading Gallery, Gallery ALL, 99¢ Plus Gallery, Friedman Benda, and R & Company. The roster of represented designers includes historical luminaries – Isamu Noguchi for Johnson Trading Gallery, Harry Bertoia for Lost City Arts and Mark McDonald – as well as a long list of contemporary designers, including Christian Wassmann for Frederieke Taylor, and the Campana Brothers for Friedman Benda.

This year, the fair launched what it calls 'Collective Concept', a series of booths that allowed invited designers to exhibit their work without gallery representation, further extending the fair's reach. For the inaugural cohort, the fair turned to Lindsey Adelman, Apparatus Studio, Fort Standard, Calico Wallpaper and Cocobolo Design.

The results are diverse. Adelman presented a video, Some Relationships Are Better Than Others, that shows two of her 'Burst' chandeliers crashing into each other to become a cloud of tiny particles. She did this alongside a new chandelier made with Nymphenburg porcelain discs. Apparatus Studio presented its first foray into fixtures using LED light, and Fort Standard launched a new furniture collection, 'Qualities of Material', that explores the possibilities of wood, stone and leather.

Interspersed throughout the fair are five booths designated as 'Collective Features' that present work from Sight Unseen, BDDW/M.Crow, A/D/O and CW&T, Print All Over Me and Various Projects, and Nicole Nadeau. For BDDW/M.Crow, Tyler Hays launched a new body of work that moves down in scale. For this, he developed a series of knives, puzzles and clothing, taking aesthetic cues from the American West.

The fair also provides an opportunity to commission new work. Brooklyn design firm The Principals conceived an outdoor installation, Glacial Drift, at the venue's entrance. The modular construction provides outdoor seating and space for plantings, all while filtering light, providing an ambient presence on an otherwise industrial city block.
Lindsey Adelman Studio unveiled a new chandelier featuring custom-made Nymphenburg discs, along with a video installation Some Relationships Are Better Than Others, as part of 'Collective Concept' – click above to watch
Fort Standard's 'Relief Stone' cabinet drew in the crowds with its graphic sensibility and poetic density. Read the whole story about their collection here (opens in new tab)
INFORMATION
Collective Design Fair is on view until 8 May. For more information, visit the Fair's website (opens in new tab)
Photography: Clemens Kois
ADDRESS
Collective Design Fair
Skylight Clarkson Square
550 Washington Street
New York
VIEW GOOGLE MAPS (opens in new tab)
You might also like
Wallpaper* Power 200: the world's top design names and influencers

It's back with a double helping of provocation and praise. We have plumped up this year's Power List to a meaty two-ton's worth of carefully measured rankings, an upscaled calibration of design achievement. As we strongly suspected, last year's Power 100 caused a considerable stir and provoked strong words. And, as last month's editor's letter made clear, even alarming threats of revenge and recrimination. So this year, unchastened, we thought we would do it all again, but double the dose. To mark our 200th issue, the power 100 has become 200. Or rather 100+100 (normal disservice will be resumed next year). And, in a self-congratulatory nod to our keen eye for talent and perhaps the propulsive effect we have had on nascent design careers, we have trawled the Wallpaper* archives, retraced our expert truffling and recovered the debut appearances of future Power Listers. (Look out for long-lost hair, unlined faces and eyes undimmed).

By Rosa Bertoli • Published
View More ▸