Bright blooms: Lasvit and Petra Krausová collaborate for Maison et Objet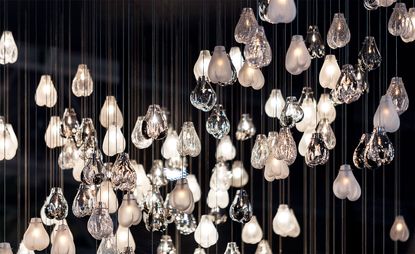 (Image credit: LASVIT)
Paris' grand Maison et Objet is never short of bright lights – or illuminaries, for that matter – and 2016 will be no exception. Proof in point: Cassia, the latest design and bespoke installation created by Petra Krausová for Czech lighting company Lasvit.

Unveiled at the international furniture fair, the dynamically-lit sculpture draws on two seemingly opposing sources of inspiration: the star-studded sky and universe beyond; and, on the other end of the scale, the delicacy of a flower swaying in the breeze.

Such conflicting inspirations might seem at odds to some, but Krausová is known for marrying tradition with technology in a seemingly effortless and organic way.

'I conceived this concept as a field of flowers or stars that expand across the interior,' says the designer.

Krausová's previous designs for the Czech brand have focused on large scale installations – the kinetic 'Supernova' and florid 'Alice', for instance – so this time she set her sights on creating something that didn't necessarily need a huge amount of space to make an impact. 'Each client can, metaphorically-speaking, pick the flowers they want and as many as they need to fill their space,' she explains.

Each one of Cassia's hand-blown pendant lights is able to stand alone, but for those who crave a statement – as seen at the Lasvit stand over the weekend – multiple pendants can be grouped together or mounted onto walls. (Each glass element has its own light source and simple brushed brass socket or wall mounting.) A soft, flowing light – resembling the movements of flowers in the field, or twinkling stars – brings a final flourish to the flexible sculpture.
Watch the blown glass experts of LASVIT craft Petra Krausová's 'Cassia'
INFORMATION
Photography courtesy of LASVIT