Bottega Veneta publishes its first book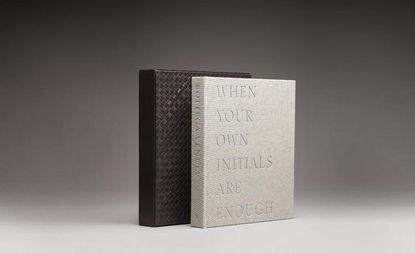 (Image credit: published by Rizzoli)
Bottega Veneta's quiet revolution started in the 1960s. Back then, the luxury leather goods arena was saturated with logo-driven offerings, but Bottega Veneta entered the market as a no-logo concern, swiftly adopting the high-minded slogan 'When your own initials are enough'. And eschewing the trend for stiff, structured forms, the label from Veneto went for softer, more pliable glove leather to shape its designs.

To make the thin kid leather more durable, Bottega Veneta's artisans weaved it together in a crosshatched pattern called intrecciato, which fast became a trademark of the brand and endured even the troubled 1990s, when fine craftsmanship took a hit. When PPR acquired Bottega Veneta in 2001, it installed Tomas Maier to give the revolution a shot in the arm.

Maier presided over one of fashion's most remarkable revivals. And now he's given the revolution its manifesto. 'Bottega Veneta', published by Rizzoli, is an homage to Italian artisanship and especially the intrecciato technique, which Maier works into his designs for earrings, furniture, shoes, even glassware.

In fact, it was Maier's keen eye for craftsmanship that prompted us to bring Bottega Veneta into the Wallpaper* Handmade 2011 fold. Challenged to design the perfect manicure case to keep us plucked and polished, Maier created a stunning soft crocodile manicure set which was exhibited at our Handmade exhibition in Milan during Salone del Mobile.

The new Bottega Veneta tome gives readers a close-up look at the handiwork involved in Maier's works - photographed so close you can see the puncture of a needle. Designed by Sam Shahid, the book comprises more than 300 pages. A foreward by filmmaker Matt Tyrnauer introduces Maier's overture and there are chapters on all the current Bottega Veneta lines by fashion editors from Joan Juliet Buck to former Wallpaper* special projects director Nick Vinson.

In fine print across the top of each written chapter run quotes from Maier himself: Maier on architecture, on travel, on women and on the beloved clutch bag he calls the Knot. Speaking of his trademark weave, he says: 'Intrecciato has the suppleness of fine leather but the hand and strength of something more substantive. It is what allows the Cabat [bag] to stand on its own, fold in on itself without collapsing, be simultaneously a bag with shape and without structure.'

Intrecciato is the technique that intertwines each chapter and gives the weighty volume a common thread. And so, when it came to packaging the limited-edition version of the book (which will be sold in Bottega Veneta boutiques), Rizzoli had the petites mains working in the Bottega Veneta workshops produce a limited edition cover of delicately woven leather.