Book: Handcrafted Modern by Leslie Williamson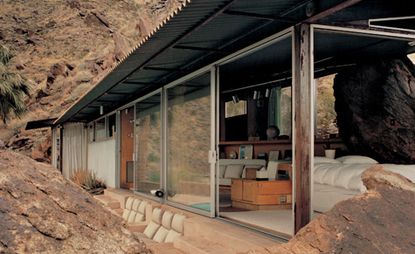 (Image credit: Leslie Williamson)
Photographer Leslie Williamson takes us through the doors of an impressive collection of homes in her new book, Handcrafted Modern: At home with mid-century designers.
Jens Risom, Charles and Ray Eames, Russel Wright - most of the big guns of the era are represented - but, far from manicured studies, Williamson's photographs show how these figures lived with their own creations, as well as the objets and curiosities they chose to collect, in what is one of the most personal and warm explorations of domestic modernism to date.
Take a look inside Williamson's Handcrafted Modern
Williamson set herself some strict criteria before embarking on the five-year project. Each designer's home had to be intact, with the person still living there, or preserved as it was when they did, with their personal effects left in the house. 'I tried to shoot the home as it was when I arrived,' she says. 'I would only move objects if they were distracting.' And the San Francisco-based photographer only used natural light, or lighting from the house, in order to convey the experience of actually living in the house.
This purity of approach makes the book rife with unexpected finds. Nose around the Eames' home in California and you'll spot voracious collector Ray's assortment of blue-and-white china, tribal artefacts, geisha headrests - even hairpins left by her bed. Meanwhile, look inside furniture designer Harry Bertoia's barn in Pennsylvania and you'll find his extraordinary sound sculptures-cum-instruments and a mini recording studio. And striking a pose inside Irving Harper's New York home are a collection of creatures sculpted from paper, toothpicks, straws and pasta.
Williamson limited her subjects to the US, taking in everything from Albert Frey's floating modernist aerie on a rocky outcrop in Palm Springs (pictured above) to Walter Gropius' historic Bauhaus home in Massachusetts. The books informal pages are full of anecdotes of this very personal voyage of discovery, resulting in powerful portraits of the people behind the designs, and the evolution of their aesthetics. 'Through the process of shooting this book, all of these designers transcended their status as icons of Modernism,' she says. 'I now see them more as extraordinary people than as demigods of design.'
Receive our daily digest of inspiration, escapism and design stories from around the world direct to your inbox
Malaika Byng is an editor, writer and consultant covering everything from architecture, design and ecology to art and craft. She was online editor for Wallpaper* magazine for three years and more recently editor of Crafts magazine, until she decided to go freelance in 2022. Based in London, she now writes for the Financial Times, Metropolis, Kinfolk and The Plant, among others.