Ben Soleimani reveals his rules for design industry success
Quality, service, design and value are central tenets woven into the rug master's eponymous new digital venture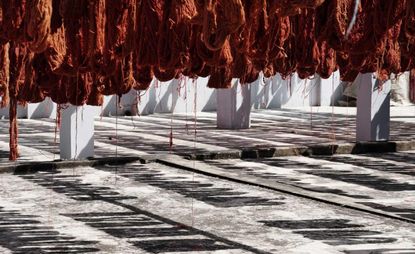 (Image credit: TBC)
'Quality is quality,' says Ben Soleimani. He follows with 'good is good.' These succinct aphorisms may sound terse, but considering what Soleimani is setting out to do, maybe not much more needs to be said. Rug scion Soleimani has finally put his name above the door, so to speak, with a new full-service e-commerce business called BenSoleimani.com, an emporium for the home designed and produced in-house by himself. But this new venture isn't just an ego-trip. Soleimani says he's starting 'a new movement' – a new model for 'attainable luxury,' where 'the idea is to buy a fantastic $3-4,000 sofa or a $3,000 rug that's not big box quality.'

The move comes from the ever-present growing reality in the design and home goods market that value and aesthetics are on opposite poles. 'Today you have to spend $10-12,000 on a rug or a sofa at the D&D in order to get good quality,' he says. 'If you can't afford this, where do you go? You have to go to these big boxes, and you just don't get the same quality.' The squeezing of the middle is what Soleimani hopes to alleviate — but make no mistake, this venture is also about prioritising design.
If Soleimani's name rings a bell, it should. Chances are your feet have graced his carpets somewhere in the world as Soleimani is the mind behind Mansour rugs, or the official purveyor to the British royal family and the largest luxury and vintage carpet dealer in the world. (He left the company in 2013 to pursue his own projects.) The revitalisation of a derelict avenue in West Hollywood into the city's style-setting shopping strip links directly back to Soleimani himself. As now-legend goes, Soleimani left London (via Iran) for Los Angeles in 1988, brought his family business to America only to elevate it, and then saw the real estate opportunities to develop Melrose Avenue into a retail destination, including his own Mansour operation.

Et voilà, 20 years later, his real estate firm owns '80 per cent of the land along Melrose High Street', which is the six-block pedestrian corridor around the La Cienega boulevard and Pacific Design Center, now brimming with popular high street stores. But the anchor of the Melrose High Street district is the 30,000 sq ft Restoration Hardware flagship, the result of a hivemind partnership between RH CEO Gary Friedman, a friendship he still maintains. Soleimani had also teamed up with RH to create an eponymous collection for the interiors giant.
RELATED STORY
Left: the rooftop aerie of the Restoration Hardware store in West Hollywood. Right: Ben Soleimani, who conceived the roof space along with Restoration Hardware CEO Gary Friedman.
But now, 'it's time for me to invest for myself,' he says. 'I'm 47 years old. It's time to do a company of my own.' Soleimani's eponymous website kicked-off earlier this month with its initial offerings: rugs. Over 1,000 styles, in fact, all made with a GoodWeave seal (of fair wages and labour practices), undyed, all natural and from the quality suppliers he's worked with through his years of selling.
What defines the collection is the natural, minimal aesthetic 'set apart by textures'. 'I like to design by texture,' he explains of the proprietary designs that he works on personally with an in-house team. His materials all derive from the earth, as well. Nature is a luxury these days, after all.

The model behind the business is actually quite simple and direct: a high-quality website (designed by GOOP's agency Lemonade) with 'touchable' photography, personalised design services, including individualised sales representatives, and free shipping. Currently in LA, the company has 'our own trucks and men, they deliver what you want for you to try, if you don't like it, you can return,' says Soleimani. 'If the model works, which it is so far, we're going to roll it out to all the major cities.'
The other crucial aspect to keeping price points accessible is by opening a limited number of stores. He cites LA, New York, Chicago and Miami as key locations. By autumn 2019, Soleimani will offer furniture — mostly in woods and metals — and next year, the collection will extend into other areas like hardware and lighting. Soleimani says that in '18 months to two years, we'll offer the whole home.'

Quality, service, design and value: these are the tenets of his business, to which Soleimani says: 'It's important who's behind this! I've been fortunate enough to succeed in what I've done with hard work. This is an unfiltered undiluted point-of-view and what I really believe is good.' Soleimani has invested in the company with his own money, and says 'no one told me to do to this,' but rather he saw this ever-stretching gap in the middle market. 'This will change the way people shop for the home,' he says, 'I'm not going to be the only one. I think this will be a big revolution.'
INFORMATION
For more information, visit bensoleimani.com (opens in new tab)