Barber Osgerby curate 'In The Making' at London's Design Museum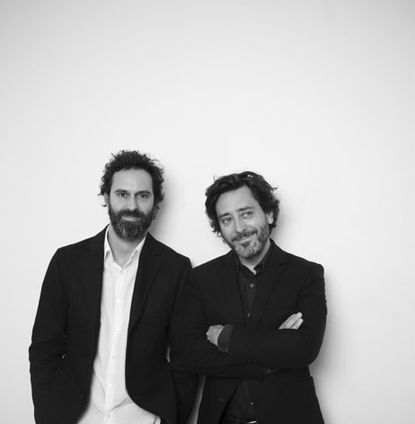 (Image credit: Alisa Connan)
Design duo Barber Osgerby's new show 'In the Making' at the Design Museum is aptly timed. It's unlikely to have escaped your notice that interest in how things are made is gaining traction. The days of design appearing without any hint of the physical systems or material changes are long gone - only the tech sector is content to roll out shelves of shiny gadgets with little hint as to how they were made. Modern design is more acutely about process, foregrounding the skills not just of the designers but of every stage of their supply chain.

Edward Barber and Jay Osgerby know this better than most. Since founding their design studio (opens in new tab) in 1996, the duo have built up an eclectic but never ostentatious portfolio, collaborating with many of the biggest names in furniture manufacturing - Knoll, Vitra, B&B Italia, Cappellini, Venini, Flos, et al - as well as working on high profile projects like the £2 coin and the 2012 Olympic Torch. Not only that, they have a clutch of design awards and a pair of freshly minted OBEs to their name.

'In The Making' is the studio's first Design Museum exhibition (opens in new tab). When Deyan Sudjic initially floated the idea, Barber and Osgerby thought about a retrospective show, but it swiftly became apparent that other ideas were bubbling up. 'There are themes we've never talked about, even in our recent book,' says Jay Osgerby. 'We're most passionate about seeing how things are made,' adds Barber, 'we always visit the factory whenever we meet with a manufacturer.'

'In The Making' is a physical presentation of this fascination, a 'collection of curiosities,' according to Osgerby. Explains Barber: 'We want to see how the manufacturing processes work. How things like waste products and intermediary stages work - sometimes the unfinished object is more magical.' This is a show about production, but also about objects. Removed from the context of the machines or craftspeople that shape them, each exhibit stands alone, spotlit on a plinth, offering us another way of seeing the strangely familiar.

Although the show only includes three items penned by Barber Osgerby themselves, it's safe to say that every item has some kind of personal relevance, regardless of the age of the manufacturing process. The designers are also keen to stress the educational benefits of such an approach. 'It's a nice antidote to the click and buy generation,' says Osgerby, 'we want to make people more fascinated by making.'

Kicking off with the vast front section of a London Underground train, shaped in several layers of superformed aluminium, 'In The Making's' curatorial process was akin to stepping up to the production line and removing an item at a critical stage, with each object labelled to show what stage it was 'paused' at.

Some are more recognisable than others - the marble emerging from the tube of glass, or the block of cedar wood pencils caught mid process. Others are far more abstract, some tantalisingly so, such as the graphic simplicity of the die cut felt used to make tennis balls - paused at 50% with a neat pattern of lozenge-shaped holes - or the blob of pure silicon before it has been shaved into wafers for making chips, or even the pure crystal that will ultimately become one of Swarovski's precision optic lenses.

Many of the objects on display are shown emerging from processes that are hundreds of years old, like the corks cut from a slice of bark, or the lovingly honed and finished cone of brass that's en route to becoming a French horn. More contemporary objects sits alongside, such as the pre-routed billet of aluminium destined to become a MacBook or the raw injection moulded foam of B&B Italia's Charles Sofa, sans upholstery.

'We tried to go for everyday objects, but we also wanted to get across as many different production processes as we could,' says Barber. The studio's own Tip Ton Chair is shown before the injected plastic has had a chance to fill the mould, leaving an uncanny-looking half-finished object ('It was brave of Vitra to let us show this,' Osgerby muses).

The presentation increases the sense of focus on a singular point in the journey of what are often very pragmatic objects - pencils, house bricks, tennis balls. 'It's like a jewellery shop,' says Barber, as he reaches across to make last minute adjustments to a spotlight or caption. Ultimately, as Sudjic notes, Barber Osgerby are 'designers who still care about things,' and the exhibition conveys a sense of wonder at the world (bolstered by a series of captivating process videos along one wall).

Even the most prosaic item has a hidden story - the metal bar that holds a fork's tines in place before being struck off at the very end of manufacturing, the fact that mixer taps are always produced in mirrored pairs for efficiency, or the modern aluminium drinks can being punched out from a flat sheet, rather than rolled up. 'In The Making' offers an insight - albeit a carefully curated one - into the realm of manufacturing, hopefully helping to inspire new generations of designers to take up the torch.
ADDRESS
Design Museum
Shad Thames
London SE1 2YD
VIEW GOOGLE MAPS (opens in new tab)
Jonathan Bell has written for Wallpaper* magazine since 1999, covering everything from architecture and transport design to books, tech and graphic design. He is now the magazine's Transport and Technology Editor. Jonathan has written and edited 15 books, including Concept Car Design, 21st Century House, and The New Modern House. He is also the host of Wallpaper's first podcast.