New era: Apple unveils futuristic new store in San Francisco's Union Square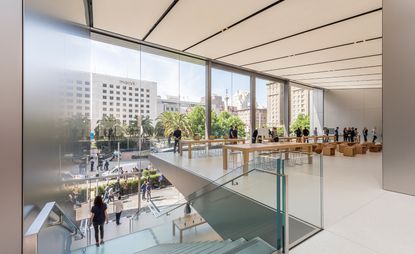 (Image credit: Nigel Young for Foster + Partners)
Last Saturday, the newest store by Apple opened its doors to the public – literally and symbolically. The facade's 20.5 ft by 42 ft doors slide open, erasing the boundary between the retail space and the iconic Union Square in the heart of San Francisco, where it is located. Designed by Stefan Behling of Foster + Partners together with Apple's chief design officer Jony Ive, this two-story space affirms the Silicon Valley giant's effort to go beyond merely showcasing its products and become integrated into the urban landscape.

'This is just a teaser," says Stefan Behling, senior executive partner of Foster + Partners who has worked closely with Apple's chief design officer Jony Ive on the store and the tech giant's new headquarters that will open in 2017. 'It's next year that the world will see what our collaboration has accomplished.'

The stainless steel landmark includes photovoltaic panels on the roof and radiant floors and a LED-illuminated fabric ceiling inside. 'This is the next generation of Apple retail,' says Angela Ahrendts, Apple's senior vice president of retail and online stores, citing openness and transparency as the vision of the future of Apple's retail. 'We will know we've done really great if it feels more like a town square,' she adds.

The store translates the town centre metaphor into 'The Avenue', staffed by new creative pros with expertise in music, photography and other arts, tasked with aiding customers with Apple products and select third-party accessories.

The revolutionary Union Square outlet also dedicates nearly a quarter of its footprint to 'The Forum', dotted with whimsical leather boxes and wooden cubes around a video wall where photographers, gamers and developers will give demonstrations and instructions.

The help desk is now replaced by the 'Genius Grove' of actual trees in sleek round pots, each topped with leather seating. Another new feature is a boardroom set aside for small business customers.

Keeping with its announcement of offering public plazas at its prominent locations, Apple is also unveiling a communal space behind the Union Square location. It will offer free 24/7 WiFi and live music performances, while retaining the original 1973 fountain by local artist Ruth Asawa for a sense of continuity.
INFORMATION
For more information, visit Apple's website (opens in new tab)

Photography: Nigel Young for Foster + Partners
ADDRESS
Apple
300 Post Street
San Francisco, CA 94108
VIEW GOOGLE MAPS (opens in new tab)