Antonio Citterio and Patricia Viel on the importance of being an architect
Sneak a peek at new film, The importance of being an architect, which is premiered at Milan Design Film Festival (21 – 24 October 2021), as its subjects Antonio Citterio and Patricia Viel talk to Wallpaper* about their role in society today and in the future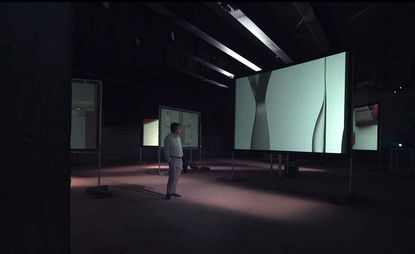 (Image credit: press)
Milanese architecture and design duo Antonio Citterio Patricia Viel are the subjects of a new film, titled The importance of being an architect and premiering at Milan's Design Film Festival. The festival's 2021 edition is led by Silvia Robertazzi with co-curator Porzia Bergamasco, under the theme 'Reset', to indicate the collective need for a new beginning, and features four days of screenings and talks, both online and across the city (21 – 24 October 2021).
The programme includes more than 50 works, among them biopics, documentaries and animation, divided into categories such as Architecture, Art Of Thinking, Biography, Design, Sustainability, and Urban Life. A series of screenings and talks explores the given theme from the perspective of design and architecture. The screenings are divided into two sections, one curated by Gianandrea Barreca and Giovanni La Varra, of Barreca & La Varra architecture studio in Milan, and a second run by Formafantasma, titled Bloom.
Among the films, The importance of being an architect is an hour-long offering dedicated to the work of Antonio Citterio and Patricia Viel. Directed by Giorgio Ferrero and Federico Biasin, and produced by MyBossWas, it was conceived as a choral and musical documentary that investigates the responsibility of architects in building the society of tomorrow.
Wallpaper* talked with Antonio Citterio and Patricia Viel ahead of the film's premiere
Wallpaper*: How would you define the role of the architect within today's society?
Patricia Viel: The way I make sense of our role is that I imagine architects as curators of the evolution of the built environment. It is our task to understand how people use, and how they want to use their private and shared spaces.
Antonio Citterio: What we are doing is that we face and address the challenges that we see coming. Our ultimate goal is to create buildings and spaces that make people feel at home, allow them to work or enjoy themselves the way they prefer. And we have to find solutions for years and decades to come.
W*: The intro to the film reads: 'The documentary offers a vision of the post-Covid world, in the midst of the climate crisis and urban redistribution, while guiding the viewer between elements of the design methodology, from data analysis and technological innovation, to travel as an inexhaustible engine of inspiration.' How do you get the first inspiration for a project?
PV: Studying the building site, the context, its history is certainly the raw material of our projects. Then, by working on the language and the expressions, we always aim to find solutions that establish harmonies and dialogues with the urban and natural landscape. We never work on a project thinking that it is isolated from the life of its location.
AC: In 2020, I turned 70, it was 50 years ago that I started working as an architect and designer, and it was 20 years ago that [Patricia and I] founded the practice. It was a year when we had the opportunity to take a step back and reflect on this exact question – to look back on how we approach projects and what methodology we use.
W*: How would you envision architects' work in the future, let's say 50 years from now?
AC: That's a long time period to make plans for. When I think about what architecture and design will mean tomorrow, I imagine a new kind of modernity that creates memories, and stands the test of time.
PV: What our last 20 years tell us is that the same approach can work through the years. There are some factors changing, such as digitalisation, which is changing how people interact, and build and maintain relationships, and it is also changing the tools we use to design. I really believe in young architects who have advanced education that makes them able to manage complexity and combine a human-centric approach with digital knowledge in their work.
W*: What is the importance of masters today?
AC: Today I think they give us points of reference that help us imagine and reimagine our spaces. It is important to keep in mind what has been done before when designing. I feel closest to the 'Milanese school' of Gio Ponti, Luigi Caccia Dominioni and Vico Magistretti.

W*: What does it mean for you to relate to your accomplished projects?
PV: For me, seeing our most important works all together threw me back to the times when we were thinking about details, looking for solutions to specific issues, and talking with engineers and specialists to get where we want to go.
AC: I have to say it is moving to look back on the highlights of all these years. It reminded me how essential it is to have the right team with you. It is never a single individual that achieves a certain kind of quality – it is almost always a team that produces quality that people need.
The Importance of being an architect: watch the trailer
INFORMATION
Receive our daily digest of inspiration, escapism and design stories from around the world direct to your inbox
Maria Cristina Didero is an independent design curator, consultant and author, who has contributed to many publications over the years; she is currently Milan editor of Wallpaper* . Didero has consulted for companies such as Vitra, Fritz Hansen, Lexus, Fendi, Louis Vuitton, Valextra among others. Based in Milan, she works internationally, curating exhibitions for institutions: some of her most recent projects include Nendo: The Space in Between and The Conversation Show at the Holon Design Museum, Israel; FUN HOUSE by Snarkitecture at National Building Museum, Washington D.C.; SuperDesign a project about Italian radical design, NY; Vegan Design, or the Art of Reduction by Erez Nevi and The Fish and The Crowd by Carlo Massoud, Milan. In April 2022 she curated a Mathieu Lehanneur exhibition at the Triennale in Milan called The Inventory of Life, while in July she debuted a project at the MK&G in Hamburg titled Ask Me if I Believe in the Future, alongside a series of ongoing collaborations. She was appointed 2022 Curatorial Director of Design Miami/. She is currently preparing two projects for Milan Design Week 2023.