An interview with Brazilian designer Brunno Jahara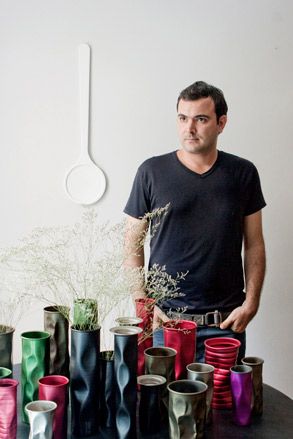 (Image credit: TBC)
Six years ago Brunno Jahara left Brazil to pursue a design career in Europe. Six months ago he moved back. His decision -- purely professional -- was inspired by the fresh new creative energy he experienced while on a quick vacation back to Sao Paolo. Today Brazil, says Jahara, is a land flowing with design opportunity.
Already fully set up in a cosy live/work affair slap bang in the centre of Sao Paolo's bohemian Pinheiros district, Jahara has procured a small house and transformed it. Comprising a homely showroom and atelier in a perspective-warping patchwork of materials, stripes, bright graphics and cartoon colours, it's Jaraha World, Brazil style. In Pinheiros he is surrounded by other artists studios and vintage furniture stores, and is happily handy for the Benedito Calixto flea market of a Saturday, or the Choque Cultural street art gallery should the mood take.
Even to the point that his next door neighbours are keen jazz musicians, the vibe is New York SoHo in the 1960s, or London Shoreditch in the late 1990s. More low level humming than outright buzzing, the area's soundtrack is of the sort that developers elsewhere in the world spend millions trying to recreate, but for real.
Jahara Studio's debut collection -- a line of vases, hanging lamps, bowls and trays in hammered anodized aluminum -- launched in Milan in April and is already selling well. Called Batucada (a Portugese word for a percussion beat used in Carnival parties), the forms are the tins and pans used by Brazil's poorer communities in the favelas to create makeshift musical instruments.
More than a simple exercise in favela chic, however, Jahara wants to draw attention to Brazil's abundant resources as much as its people's resourcefulness. Here, he explains, 98 per cent of aluminium produced is recycled. Brazil is a world leader in this respect, largely due to the country's considerable network of 'catadores' who work to extract recyclable materials from rubbish tips.
Born and raised in Rio de Janeiro, Jahara studied industrial design at Brasilia University, before moving to Italy for a stint at Venice University of Architecture and two years at Fabrica. Mentors, colleagues and influential encounters during this time included Aldo Cibic, Jaime Hayon, Jurgen Bey and Matali Crasset, while he also learned about the production methods employed in Italian factories, and -- thanks to a considerable amount of time spent in Amsterdam - the creative thinking behind so much great Dutch design.
This education, mixed with his own "chaotic input of Brazilian design" provides a distinct and multicultural mix of flavours in the Jahara Studio brand already. "I believe in this mix, where I can design something that communicates to people all over the world," he says. "I want to find design solutions that find a balance between sustainability, innovation and craftsmanship -- whether that is in a great sofa, a bathroom system or a new collection of lamps."
A second collection of products sees contemporary interpretations of classic Brazilian cookware and tableware - iconic objects from colonial and pre-colonial times that are recognizable by any native, the range includes the Gamela (a fruit bowl or center piece), the Pilão (used to make caipirinhas) and a "bourgeois cake stand". All have been scaled up, smoothed out, and carefully rendered in white Corian. He is also developing a new furniture series - a flat pack foldable system again in recycled aluminum and mixed with handmade recycled fabrics indigenous to Brazil.
Focusing for the moment on self production he is working to find the partners to help him distribute his designs internationally. But for the moment the big opportunity is at home. The challenges -- and opportunities - for Brazilian designers are manifold: "It's a new country in full expansion, so there is so much space to change, create and invent," he says. "There is a lot of room for innovation, new ways of seeing the material world that shapes our future here. The market is big and we need to design good products that can make a difference."
Designers in Brazil still have so many issues to address, according to Jahara, who cites urban furniture, transportation and sustainable design as examples. "We have a challenge to keep the amazing natural resources of Brazil in the right place," he says. "Right now there is a lot of demand for great designers to create for the local and international market."
When Jahara left Brazil, "hardly anyone knew what a designer was, what they did. Now, with information so accessible and the economy so good the situation is so much better. Our challenge -- as such a multicultural country -- is to build our design identity." It's a big task to undertake, but he is in the right place to make a go of it.
Receive our daily digest of inspiration, escapism and design stories from around the world direct to your inbox