Future stars: up-and-coming designers rule the roost at Maison et Objet 2016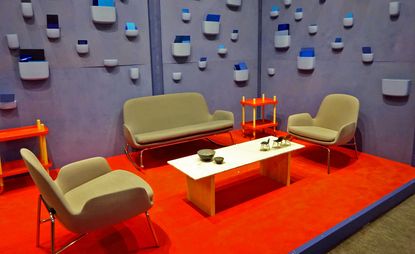 (Image credit: TBC)
We're an optimistic, forward-thinking bunch here at Wallpaper, so we don't like to sound negative – but as we strode through the eight vast and alternately over-and under-heated halls of Maison et Objet last weekend, all too many brands we asked 'What's new this season?' looked slightly embarrassed, shifted from foot to foot and finally responded with an apologetic, 'Er, not very much, actually.'

Maybe we've been to too many fairs – or maybe we're getting a little jaded – but much of this January's M&O felt like rather an interim affair. Some nice designs, undoubtedly, but – for Wallpaper* at least – nothing that stopped us dead in our tracks. What we did see, though, were some beautiful things from single makers and smaller outfits, as well as some enticing new editions (and re-editions) from some of the bigger brands.

With a show so vast and so varied it's always hard to discern trends, but it was intriguing to see some of our own hunches borne out. We seem to have reached Peak Brass, for example – after a couple of years of having brass everywhere, it was far less in evidence this time; copper, meanwhile, was almost nowhere to be seen. As for marble, the other big material story of the last few years, white seems to be giving way to various other colours (clearly it's going to be around for some time yet).

Among the bigger brands, Normann Copenhagen showed its classic 'Form' armchairs, covered for the first time with a range of attractive fabrics in various denim shades. There were bright new colourways, too, for the 'Block' trolley and 'Pocket' wall organisers, as well as a new modular sofa designed by Hans Hornemann. Called 'Rope', it comes in 12 different modules and is padded not with foam but with the kind of pocket springs normally found in beds for extra comfort.

Ligne Roset maintained the modular mood with the multicoloured 'Slice' armchair, designed by Pierre Charpin in the 1980s but not produced until now, and also showed new versions of Philippe Nigro's popular 'Cosse' sofa.

Over at Gubi, we were dazzled by a re-edition of Louis Weisdorf's 1972 'Multi-Lite' pendant lamp in seven different materials and colourways. Their two opposing quarter-spherical shades can be rotated individually, offering multiple combinations where the light can be directed upwards, downwards or in various other combinations.

Also lighting the way forward were Hisle's 'La Luxciole' French-made, cordless aluminium table lamps, which despite having powerful LED bulbs cast a warm, attractive light. Kalmar, meanwhile, showed its classic 'Billy T' lamp 're-edited' (in its words) by Ilse Crawford. We also liked the oval wall lamp from CTO Lighting, by Turkish design studio Autobahn; while Moser's new hand-cut glass crystal 'Carrara 3336' lamp, designed by Jabůrek Lukáš, came in both pendant and table versions.

Moser also showed some striking glass trays, their edges supported by a pyramid, a cube, a tube and a sphere, all in solid coloured glass. Other good glassware was to be seen in the 'Talents à la Carte' exhibition, which focused on six young Scandinavian designers, including Katriina Nuutinen, whose 'Lyyli' containers combine two very Finnish materials: mouth-blown clear and coloured glass with birchwood lids and glass handles. Czech designer Anna Torfs' sculptural vases demonstrated that the traditional Bohemian glass traditions are alive and well.

It was good to see the Misoka•ISM toothbrush, a Design Awards 2016 winner, showing at Maison et Objet, with a spectacular 'waterfall' display made up of hundreds of brushes, which apparently took 10 people 10 days to make.

As always, there were appealing finds from smaller brands and up-and-coming designers. Shibui's onion-shaped wooden mortars and pestles made a welcome addition to their thoughtfully designed accessories for the kitchen, while French studio Coming B's clever side tables with integral swivelling trays suggested that they're definitely ones to watch. Young Copenhagen-based Central St Martins graduate Troels Flensted makes alluring tables and vessels whose swirling patterns are created by mixing powdered pigments into a composite material.

Though as always there was more at Maison than anyone could hope to see, the galleries and studios in Paris itself had some particularly fine shows this January. Among the stalwarts, Carpenters Workshop Gallery offered lovely new colourways in Wonmin Park's 'Haze' collection, as well as a group of very characterful lamps-cum-sculptures by Mathieu Lehanneur. Equally intriguing were Marco Guazzini's stained-marble centrepieces at Galerie S Bensimon – which just goes to show that even a ubiquitous material can be reinvented in the hands of a thoughtful designer.
INFORMATION
Maison et Objet ran from 22–26 January 2016. For more information, visit Maison et Objet's website (opens in new tab)