Form factor: exploring Aldo Bakker's shape-shifting designs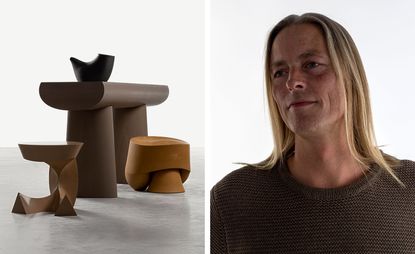 (Image credit: Bastien Gomez)
Wallpaper* Newsletter
Receive our daily digest of inspiration, escapism and design stories from around the world direct to your inbox
Thank you for signing up to Wallpaper. You will receive a verification email shortly.
There was a problem. Please refresh the page and try again.
The title of Aldo Bakker's first show with Carpenters Workshop Gallery, 'Slow Motion', could actually be a description of the way Bakker designs: alone in his Amsterdam studio, with no creative assistants. It perfectly applies as well to the way Bakker's pieces are constructed, often using his favoured urushi, a traditional Japanese lacquer made from tree sap and applied in up to 30 individual layers, each left to dry for a day or two before being polished by hand, resulting in richly textured surfaces with subtle plays of colour. And it also refers to the time it takes to properly take in and appreciate his work; the reveal is far from instant.

Bakker controls not only the process of designing and making, but of seeing too: these are pieces to encourage pause and hesitation. Unlike so many gallery edition pieces today, they whisper rather than shout. And as you can't quite see how their forms work at a first glance, you need to spend time with them, follow the curves and their intersections with straight lines, and properly take them in.
Take, for example, 'Weight/Wait', a stool with a C-shaped base and a saddle-like seat made in either basalt or foam coated in urushi ishimeji (lacquer imitating stone surface). Three very straight lines collide at the back, while convex and concave surfaces meet on the seat, which cantilevers out. The 'Sitting' table, crafted from black marble or 'white' urushi (actually beige, which lightens with age), is cut from one piece, nodding to the 'Anura' stool, which Bakker fashioned from alligator skin for Wallpaper* Handmade in 2012 (W*161). Bakker calls the new table 'sharp, clumsy and humorous'. There are three right angles and flat planes, and junctions between the outer shape and the inner shape that are to be discovered.

The show is made up of 17 pieces, of which 14 are brand new, and three reinterpret existing designs in new materials. Bigger pieces include his 2017 console table in green urushi or brown quartzite, 'a very dense and quiet' stone that allows long, monumental pieces. Its chunky form, where curves and flat planes meet harmoniously, is typical of Bakker's work. There is a red quartzite dining table with a top and base that widen in the middle, offering up more visual trickery, while a 2m-long bench is cut from a single piece of stone; I watched five men struggle to shift it during our photo shoot. It is called 'Long Lasting' and Bakker says 'the weather will have almost no effect on it' if it is left outdoors. There are also four smaller items, including 'Newel', a vessel in gold-plated fine silver. This is a new 12-sided piece, fluted like the facets of a pillar, but rising at one edge as it 'starts to question itself ', says Bakker.
Carpenters Workshop Gallery, with locations in London, Paris, New York and San Francisco, has offered Bakker a truly international showcase, new production capabilities and generous budgets. It's been a four-year journey since founders Julien Lombrail and Loic Le Gaillard first approached Bakker. 'The obvious beauty of Aldo's pieces makes it impossible not to want to represent him,' they say. 'Strong, singular, elegant and absolutely sensual, his furniture takes a new original direction, unseen in the design world.' As originally featured in the May 2019 issue of Wallpaper* (W*242)
INFORMATION
'Aldo Bakker: Slow Motion' is on view until 15 June. For more information, visit the Carpenters Workshop Gallery website and the Aldo Bakker website
Receive our daily digest of inspiration, escapism and design stories from around the world direct to your inbox
Also known as Picky Nicky, Nick Vinson has contributed to Wallpaper* Magazine for the past 21 years. He runs Vinson&Co, a London-based bureau specialising in creative direction and interiors for the luxury goods industry. As both an expert and fan of Made in Italy, he divides his time between London and Florence and has decades of experience in the industry as a critic, curator and editor.