Red, white & blue: Wallpaper* US Bespoke Edition launch party highlights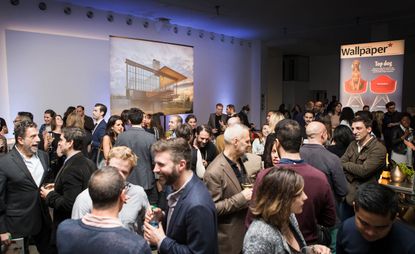 (Image credit: Patrick MacLeod )
The festive party season may, for better or worse, be over – but before we let the champagne flutes start gathering dust again, it feels like a good time to look back over the myriad wonderful events hosted by Wallpaper* in 2015.

Back in November, and following a more intimate gathering, we decided it was time to launch our first ever Wallpaper* US Bespoke Edition with a splash. And if there was anyone who could tell us what hopping the pond in style is about, it was Spring Studios – a multidisciplinary London space recently expanded to New York City's Tribeca.

Gathering in the lofty Aldo Andreoli-designed space, we reclined on furniture from Design Within Reach, Blu Dot and Herman Miller while our glasses were kept full of Veuve Clicquot's finest bubbles. Charlie Bird served up classic seafood bites with a twist – smooth ceviche with crunchy pistachios and razor clams came with a chili kick.

Our multidisciplinary guest list drew on Wallpaper's interest in great design across all industries, and included our friends Paperless Post CEO James Hirschfeld, Espasso Gallery owner Carlos Junqueira, Museum of Arts and Design director Glenn Adamson and Wallpaper* cover artist William Wegman himself.

Having just celebrated our 200th issue, it was fitting that American furniture legend Vladimir Kagan was in attendance. Kagan, one of our first collaborators, has lived a classic New York tale – from humble immigrant beginnings, to Industrial Design Hall of Famer. Now, you can see his midcentury modern designs in the Brooklyn Museum.

More than just an opportunity to eat, drink and be merry, the event was a moment to re-assert our values as a truly global brand. Under the watchful eyes of one of Wegman's weimaraners we toasted to the fresh possibilities our Wallpaper* US Bespoke Edition accords: an embrace of the digital age, experimentation, and the new faces of design – wherever they may herald from.