Pierre Yovanovitch creates opera set for Theater Basel
The French designer makes his operatic debut with a set design for Verdi's Rigoletto, creating a moveable stage set in his signature aesthetic, complete with custom furniture pieces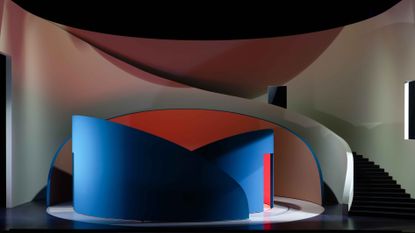 (Image credit: Paolo Abate)
Pierre Yovanovitch has created the set design for a new production of Giuseppe Verdi's Rigoletto, which debuted on 21 January 2023 at Theater Basel, Switzerland.
This is the first foray onto the operatic stage for the French interior architect and furniture designer, though he has long had a penchant for narrative – staging exhibitions around Mademoiselle Oops, an imaginary character with a penchant for whimsy and romance, and designing the widely coveted 'Mama Bear', 'Papa Bear' and 'Baby Bear' chairs.
Pierre Yovanovitch theatre set for Giuseppe Verdi's Rigoletto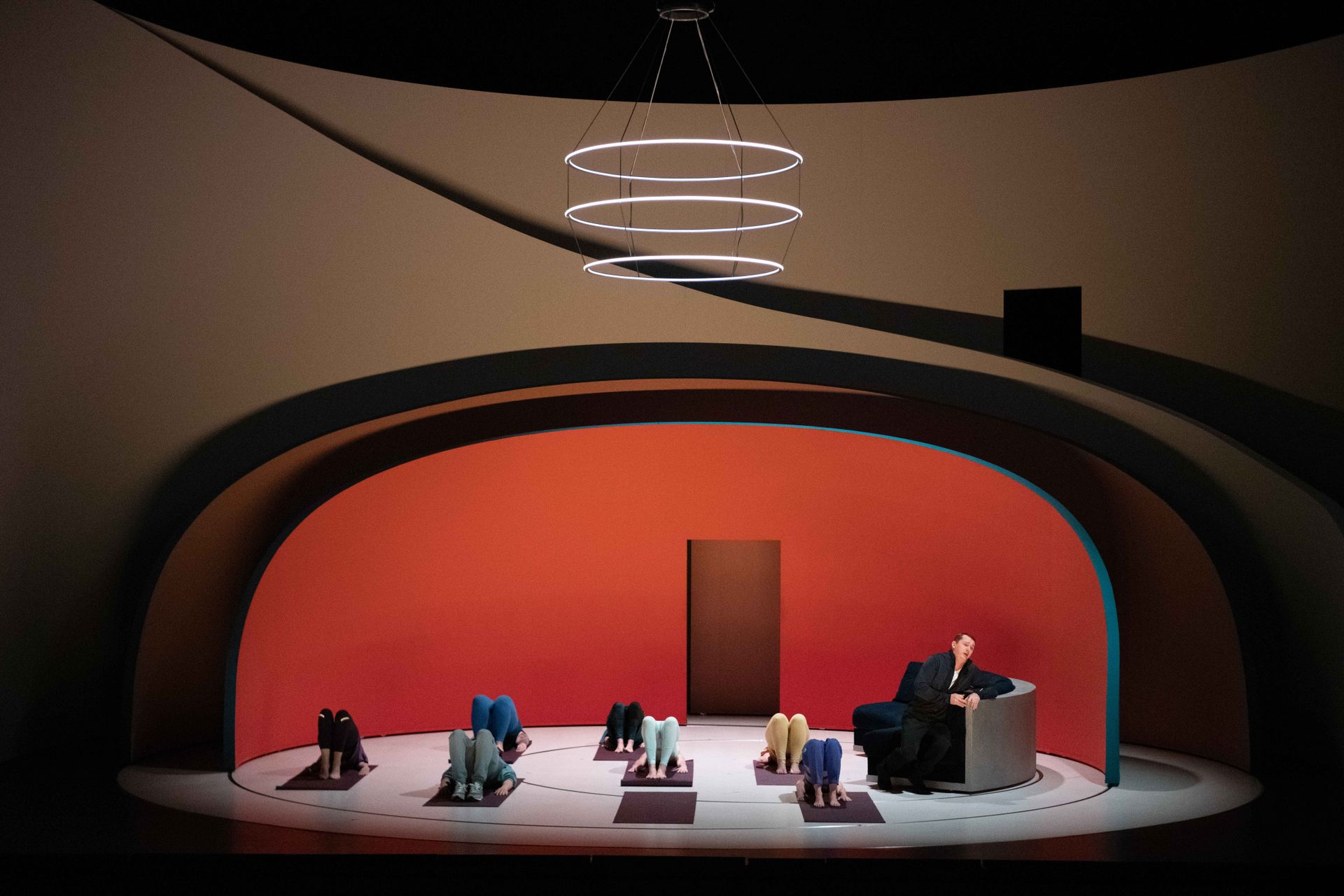 'Opera sets are at their most powerful when they reflect the soul of the work, its music and characters. I want to do the same in my oeuvre,' Yovanovitch said in a 2021 interview with Kinfolk. An avid opera goer, he calls his Theater Basel set design – commissioned by director Vincent Huguet – the realisation of a lifelong dream.
Rigoletto tells the story of a jester in the court of the Duke of Mantua, whose world comes crashing down when his innocent daughter Gilda attracts the duke's attention. Inspired by this tale of vengeance, naivety and power, Yovanovitch conceived a moveable design scheme comprising three curved walls, one nested within another.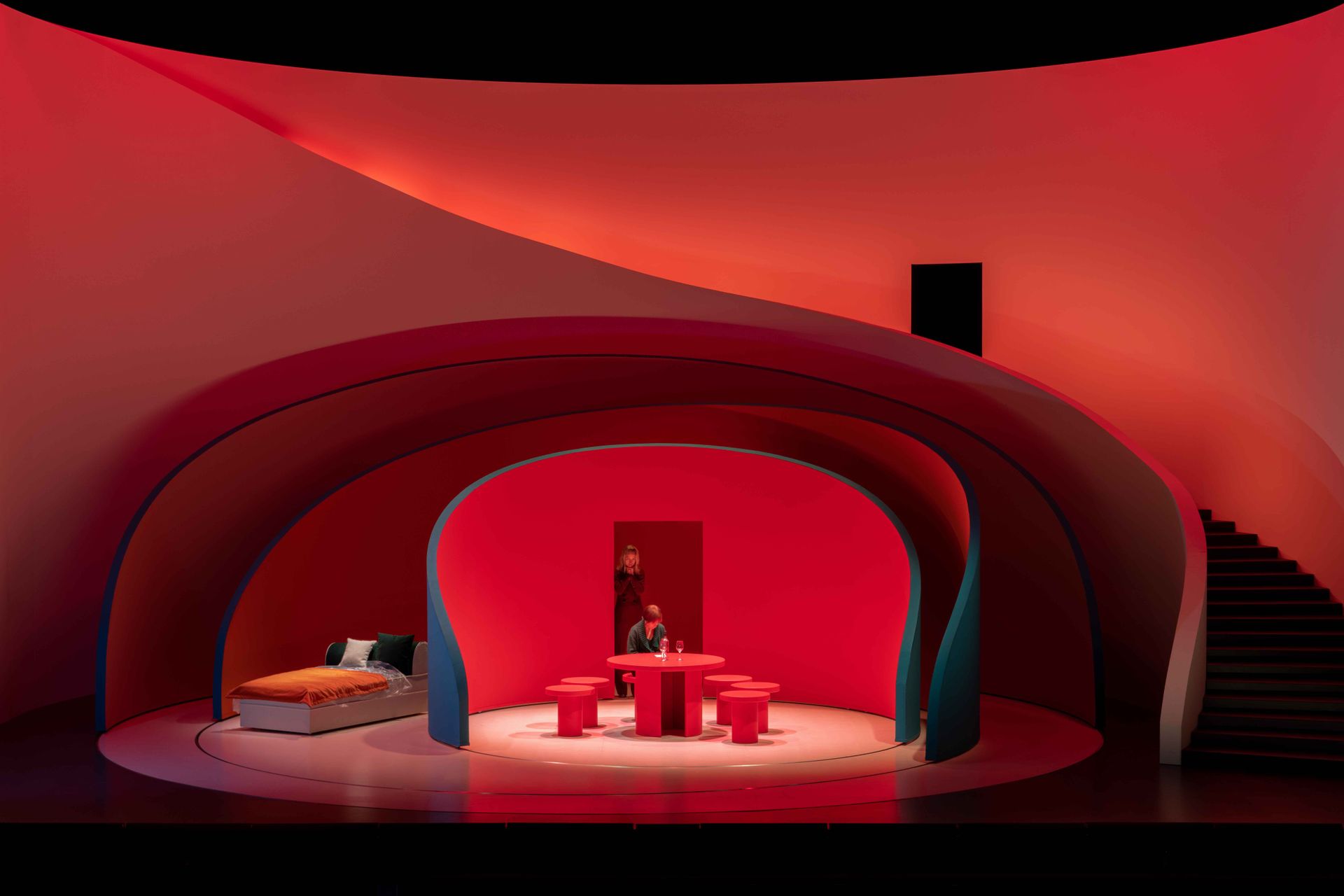 'I created a moving set that could gradually take shape as Rigoletto's curse evolves. I conceived it as a stripped-down set so that the characters' souls, in disinheritance, can take up as much space as they need,' he explains.
Painted bright red on the inside and blue on the outside, each wall can revolve 360 degrees around a circular track and is punctuated by a rectangular doorway in the centre. Their movement serves to frame the characters, and draw attention to the shift in acts throughout the show. As the story unfolds, they close up into an ever tighter circle to heighten the sense of psychological drama.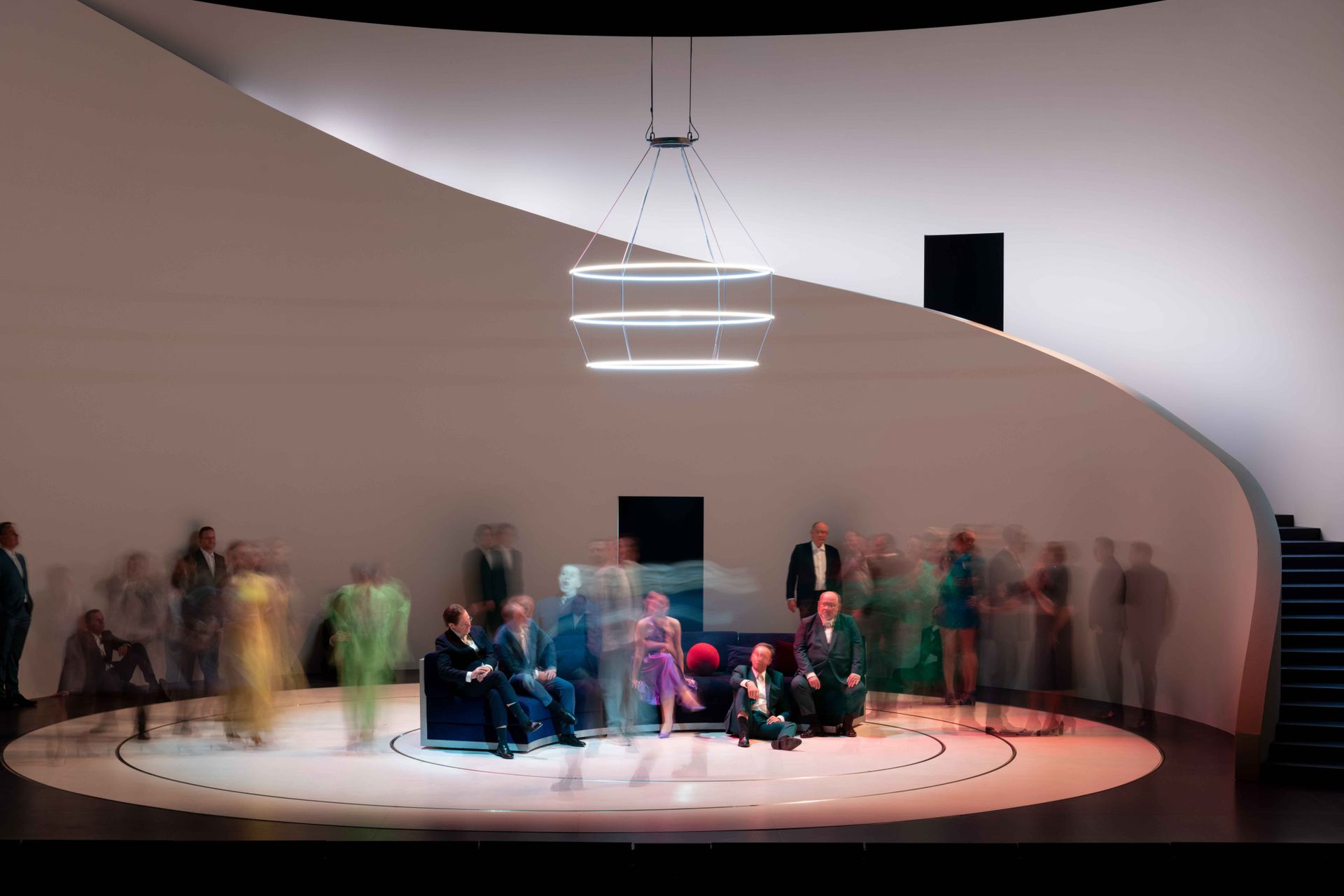 In the background, painted in white, is a monumental curved staircase – a Yovanovitch signature that appears to stretch across the width of the opera house, while suspended from the ceiling is a minimalist chandelier, formed of three concentric rings of light.
Yovanovitch also created custom furniture for the set, including a curved sectional sofa, a daybed, and a circular table with a cylindrical base, surrounded by similarly shaped stools. His distinctive design language shines through all these pieces, which are simple, perfectly proportioned, and spruced up in bold colours (think a bright red spherical cushion on the navy blue sofa).
'The décor also symbolises the passage of time, quickly, and above all what we have done with our lives and what it has done with us,' adds Yovanovitch.
Yovanovitch's set design will be on view at Theater Basel throughout the run of Rigoletto, until 21 June 2023.
theater-basel.ch/en/rigoletto (opens in new tab)
pierreyovanovitch.com (opens in new tab)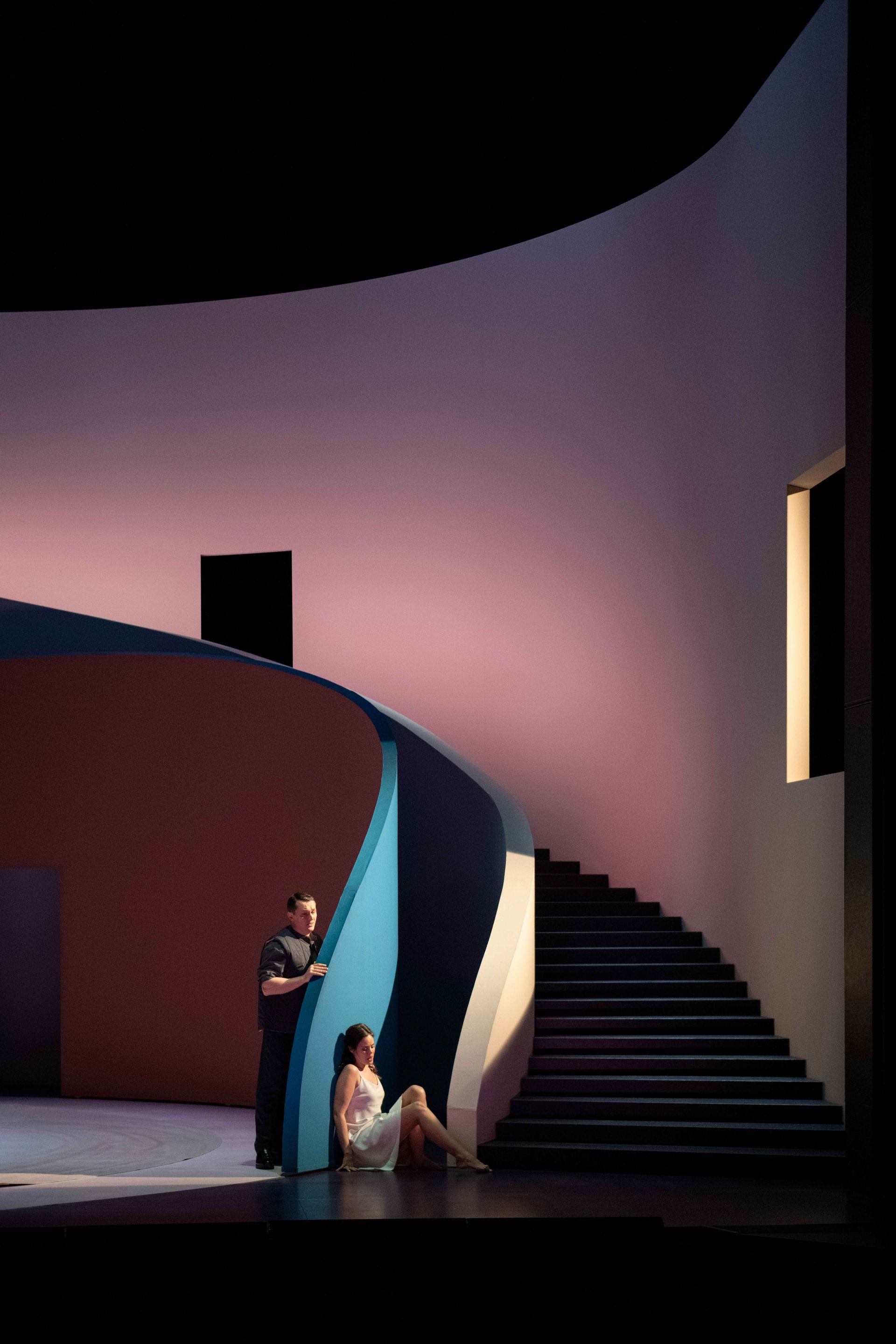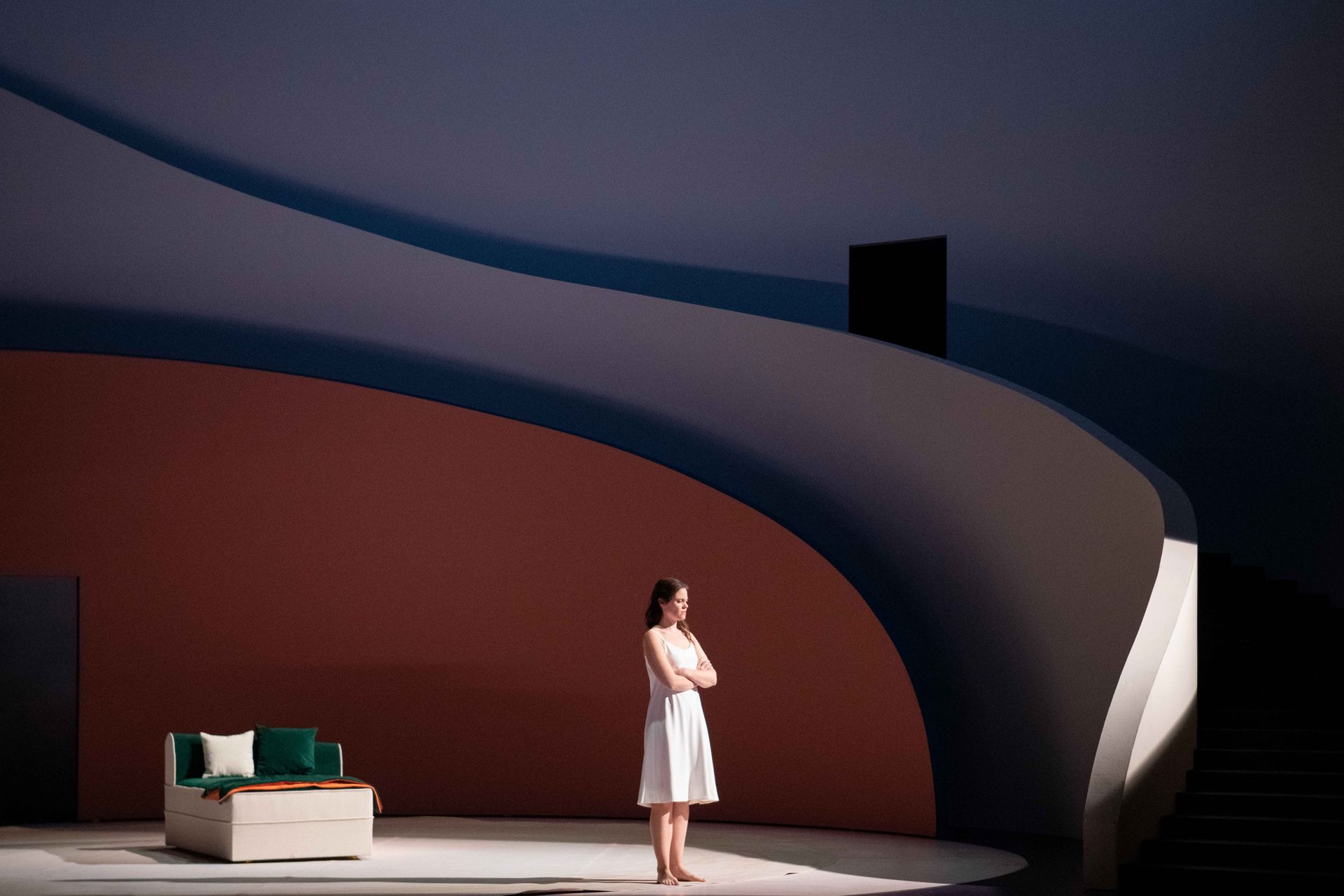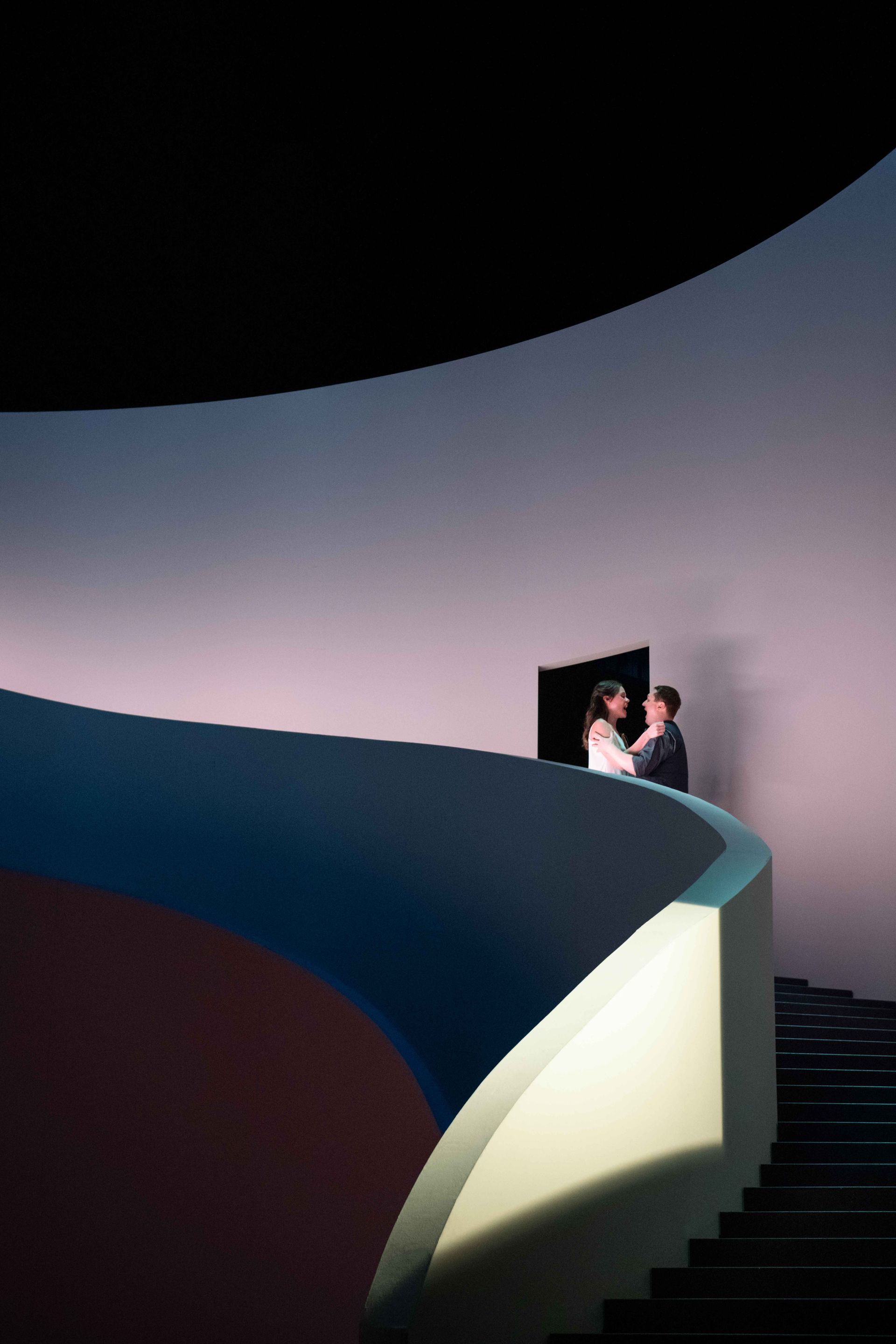 TF has been editor of Wallpaper* since December 2020. He is responsible for our monthly print magazine, planning, commissioning, editing and writing long-lead content across all our content pillars. He also plays a leading role in multi-channel editorial franchises, such as our annual Design Awards, Guest Editor takeovers and Next Generation series. He aims to create world-class, visually-driven content while championing diversity, international representation and social impact. TF joined Wallpaper* as an intern in January 2013, and served as its commissioning editor from 2017-20, winning a 30 under 30 New Talent Award from the Professional Publishers' Association. Born and raised in Hong Kong, he holds an undergraduate degree in history from Princeton University.