Paola Navone turns her souvenirs into lottery prizes
Lottery now open: 'Take It Or Leave It' – by Paola Navone and The Slowdown with Daniel Rozensztroch – sees the Italian designer offer her souvenirs to the design community in Milan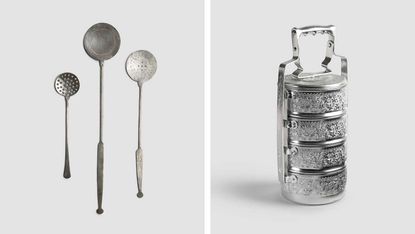 (Image credit: Antonio Campanella)
Discover the Wallpaper* guide to Salone del Mobile 2023 and Milan Design Week
Paola Navone has taken up the challenge of parting ways with her worldly treasures. 'I like to give these objects a second or third life, but I also like to have a new empty space around me to plan new adventures,' says the Milan-based design doyenne. Giving them away is not a dismissal of the objects, it's an occasion to revel in the beauty of the present and to connect with those who will decide to take or leave the object behind.
Paola Navone presents 'Take It Or Leave It' at Milan Design Week 2023
For her upcoming exhibition, 'Take It Or Leave It' on the occasion of Milan Design Week 2023, Navone has put together collected objects from around the world and arranged them in unexpected combinations. 'Take It Or Leave It', which she has curated with Daniel Rozensztroch, the former artistic director of Paris concept store Merci, is a testament to her unmatched skill.
The exhibit will be presented as a lottery, where a select few will be chosen for a ticket, and each piece will be linked to them. Those who encounter the object will face the ultimate question – to take it or leave it?
Spencer Bailey, co-founder of company The Slowdown and a close friend of Navone who also collaborated on the project, adds: 'Last fall, when I was in Milan, I caught up with Paola (she and I met a decade ago, and became fast friends; my first book, Tham ma da: The Adventurous Interiors of Paola Navone, is about her work). She told me she had a "crazy" idea. My initial response was, "Well, Paola, you always have crazy ideas." I didn't realise it would be something this crazy. She told me she wanted to give hundreds of the things she has collected over decades, for free, and that she wanted to call the exhibition "Take It Or Leave It".
'I immediately loved the idea and the title, but I told her there would be nothing left after an hour if she simply gave the objects away. Thinking about it further, I came up with the idea of a numbered lottery, where people sign up in advance and get only one number and one choice – they can literally take or leave the numbered object. Honouring the beautiful things that already exist around us – in this case, Paola's things– "Take It Or Leave It" posits a radical form of upcycling and reuse. I'm excited to see what unfolds.'
This exhibition is a conscious act of decision-making. It's about making intentional choices about what we value and what we're willing to let go of. Rozensztroch describes it as 'a moment to spread all these objects accumulated across a life of collecting – with passion'. By participating in 'Take It Or leave It', visitors are challenged to reflect on their own relationship to material possessions and to engage with others in a meaningful way.
How to enter the lottery and see the exhibition
The lottery can be entered through a limited number of timed reservations that are available at slowdown.tv/salone2023 from 31 March 2023. The draws will take place on 17, 20, and 21 April. At all other times, the exhibition will be open to the public.
OTTO Studio Via Tortona 31, 20144 Milano
Maria Cristina Didero is an independent design curator, consultant and author, who has contributed to many publications over the years; she is currently Milan editor of Wallpaper* . Didero has consulted for companies such as Vitra, Fritz Hansen, Lexus, Fendi, Louis Vuitton, Valextra among others. Based in Milan, she works internationally, curating exhibitions for institutions: some of her most recent projects include Nendo: The Space in Between and The Conversation Show at the Holon Design Museum, Israel; FUN HOUSE by Snarkitecture at National Building Museum, Washington D.C.; SuperDesign a project about Italian radical design, NY; Vegan Design, or the Art of Reduction by Erez Nevi and The Fish and The Crowd by Carlo Massoud, Milan. In April 2022 she curated a Mathieu Lehanneur exhibition at the Triennale in Milan called The Inventory of Life, while in July she debuted a project at the MK&G in Hamburg titled Ask Me if I Believe in the Future, alongside a series of ongoing collaborations. She was appointed 2022 Curatorial Director of Design Miami/. She is currently preparing two projects for Milan Design Week 2023.