Ikea 80th anniversary collection is a colourful treasure trove of great designs
The Nytillverkad collection celebrates Ikea's 80th anniversary with forward-facing materials and fresh new colours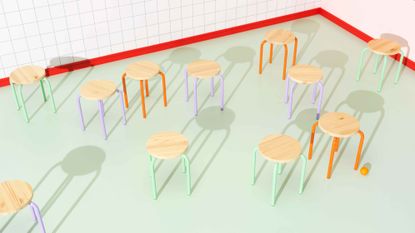 (Image credit: Courtesy Ikea)
At the warehouse that formed the backdrop to Ikea's presentations at Milan Design Week 2023, visitors had a sneak peek into a new collection that celebrates the company's 80th anniversary.
Named Nytillverkad, Ikea's 80th-anniversary collection is bold, bright, sustainable – and familiar. Those who have lived and grown up with Ikea may recognize some of it, because everything has been made before. It's a back-catalogue collection in forward-facing materials and fresh new colours. The first drop, of around 20 pieces, lands on 23 July 2023 and will be followed by further drops throughout the year and into the future.
80 years of Ikea celebrated with colour and patterns
It makes perfect sense. Ikea launches around 2,500 products a year and is sitting on a treasure trove of great designs. But with so much rich history where to start? For Karin Gustavsson, creative leader of Nytillverkad, it wasn't easy. 'We had a big list to choose from,' she says. 'The only thing we knew for sure was that, after the pandemic, we wanted colour and pattern, which people like to mix and match.'
To this end, flower print cushions come in popping primary colours; pillows and rugs feature bright bold stripes and unlike their predecessors, these textiles are made from recycled cotton and 'post-consumer' recycled fibres. 'People today are very mindful of consumption,' says Gustavsson. 'Sustainability is top of everyone's minds.'
'Materials, supply chains, production methods and home life have changed since these vintage pieces were first made,' adds Johan Ejdemo, design manager of Ikea Sweden. 'In the 1960s, you sat with the baby in your lap, and smoked cigarettes,' he observes. 'Thoughts around safety were rather different.' To this end, tippable sofas and chairs that fall over easily didn't make the edit, nor did pieces in exotic woods like jacaranda. 'Some of the items from the past are very complicated to do today.'
Those that reappear have been reworked in modern, eco-friendly ways; take the 1971 'Gogo' easy chair originally made with a carbon steel frame. It now features high-strength steel that emits 50 per cent less CO2 than its predecessor. Across the whole collection, plastic packaging has been replaced by paper where possible and more focus has been placed on flat pack. 'Dis-assembly is as important as assembly for a nomadic generation always on the move,' says Ejdemo, because it's while moving that most breakages occur. Ikea founder Ingvar Kamprad created the first flat-pack piece – the 'Lövet' coffee table – in 1956, and in homage to the company's visionary founder, an ash version appears in Nytillverkad, in orange, green and blue.
Most of the pieces in the Milan Design Week preview stretched from the 1960s to the 1980s, but going forward, Nytillverkad will not be launched chronologically, and will include whimsical pieces too, 'like those from the disco period of the 1980s and 1990s', says Gustavsson.
This back-to-the-future collection is also great news for those who missed the boat first time around. Vintage Ikea pieces now trade for hefty price tags; the €25 'Medevi Brunn' chair (2004) recently sold for €346 (proof, if any were needed, that Ikea pieces can stand the test of time). By its very nature, Nytillverkad will be stuffed with ready-made classics. And who can argue with that?
Nytillverkad, Ikea's 80-anniversary collection, is available from July 2023
Emma O'Kelly is a contributing editor at Wallpaper*. She joined the magazine on issue 4 as news editor and since since then has worked in full and part time roles across many editorial departments. She is a freelance journalist based in London and works for a range of titles from Condé Nast Traveller to The Telegraph. She is currently working on a book about Scandinavian sauna culture and is renovating a mid century house in the Italian Lakes.