New York's Galerie Was is the latest vintage design destination in the city
Galerie Was is the new Lower East Side space by interior designer Lauren Piscione with chef Allie Fitzpatrick and tech-whiz Andy McCune, offering vintage design with plenty of patina alongside works by contemporary makers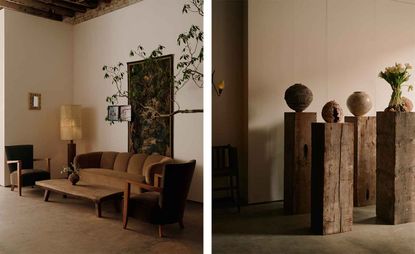 (Image credit: William Jess Laird)
Combing Les Puces in Paris, interior designer Lauren Piscione came across a weathered wood étagère (likely originally a water trough) that she needed to show her clients, the couple Allie Fitzpatrick, a chef, and tech-whiz Andy McCune. Instead of texting a photograph, Piscione met Fitzpatrick and McCune for drinks later that evening, thinking she'd just be persuading them into collecting this unique, slightly askew, heavily patinated piece. 'Instead, we were like "maybe we should buy more things? Maybe we should start a gallery?"' says Piscione. 'That was on the weekend. By Monday, we were exchanging decks and opening an LLC.'
Galerie Was: 'a place of discovery, exploration and always ever-changing'
What percolated in Paris became reality on New York's Lower East Side, where the three have combined forces into an aesthetic adventure called Galerie Was. Doors opened this past week (coinciding with New York Design Week 2023), revealing a muted, meditative tableau of French and Danish 'old things' (per Fitzpatrick). Patina is found here in high supply. The gallery space, which came with wood-beamed ceilings and vaulted skylights, is set up in vignettes with dreamy, earth-tone pairings of period antique finds, including the original Parisian cornerstone, and distinct pieces by Pierre Jeanneret, Charlotte Perriand, Le Corbusier, and Jacques Adnet.
But it's not just matured modern masters on offer. 'We want this to be a place of discovery, exploration and ever-changing,' explains Fitzpatrick, who is already plotting their next sourcing trips to Sweden and Japan. Initially, the business plan was only to source vintage furniture globally by shipping crates to New York from across the world, but 'the minute that we went from a showroom to a gallery was the second we started representing artists', says Fitzpatrick.
On their current roster of contemporary makers are ceramicists Yoona Hur and Mugly, painter Marianne Kolb, craftsman stereos A for Ara, homeware designers Koen Van Guijze and Oda and King – all seamlessly woven into the gallery's spaces. 'At the moment, none of them are exclusively represented by us,' explains Piscione, 'and eventually we hope to start creating custom collections and exhibits, and create pieces that are site-specific for our gallery.' These makers weren't chosen at random, nor were they 'cold called', says McCune. In fact, quite the opposite.
The ethos of Galerie Was is rooted in relationships: Fitzpatrick and McCune, who have homes in Tribeca and Bridgehampton (with interiors overseen by Piscione), collaborated closely with these creatives on their personal properties. 'Just to double click on that,' starts McCune, who founded the Squarespace-acquired imaging app Unfold and now is building Cosmos, a creatives-forward Pinterest alternative, 'the fact that we've worked with a lot of these artists before on our own projects is one of the coolest points. They're coming in full trust with us,' he adds.
But it's not just simpatico synergy that bonds Galerie Was together. 'We definitely are linked under this desire to create a beautiful human experience,' says Piscione.
301 Broome Street
New York, NY 10002