Design Miami/Paris makes its debut inside an ornate Saint-Germain-des-Prés mansion
This week, Design Miami/Paris held its inaugural edition (until 22 October 2023) at L'Hôtel des Maisons while also announcing its acquisition by online marketplace Basic.Space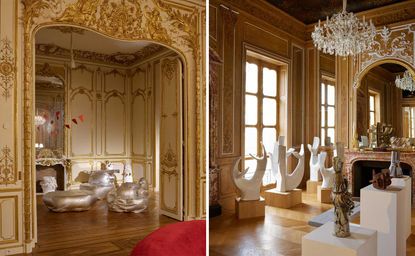 (Image credit: Courtesy Design Miami/)
What does a 1980s coffee table inspired by a tank tread look like in an 18th-century interior? What does a 20-year-old design fair look like on a next-generation e-commerce site? Design Miami/Paris raised both questions this week, holding its inaugural edition while also announcing its acquisition by online marketplace Basic.Space.
Design Miami/Paris at L'Hôtel des Maisons
Design Miami was originally slated to make its debut in Paris last year, in a tent on Place de la Concorde, but the fair was cancelled because of security concerns due to yellow vest protests. Jennifer Roberts, Design Miami CEO, says that her team subsequently studied 48 potential locations for 2023, yet found nothing. Then in late February or early March, she heard from a broker in Paris. 'He called out of the blue, saying "I might have a solution for you." So I asked a representative in Paris to walk through the house. And they said: "Run, do not walk."'
The site was L'Hôtel des Maisons, an ornate mansion in Saint-Germain-des-Prés, formerly home to Karl Lagerfeld and several generations of the Pozzo di Borgo family. Normally, the design fair occupies temporary tents in Basel and Miami; this would be a totally different, and very Parisian, vibe.
Once the location was found, the Design Miami team put the fair together in record time. So did the galleries, who divided the rooms amongst themselves and were not allowed to modify the house's interiors.
Galerie Desprez-Breheret, a first-time exhibitor, only learned about the fair in August, and was given Lagerfeld's former dressing room. 'This was a tricky space,' said Benjamin Desprez, pointing out a round chest of drawers, now repurposed as a display table for carved wooden objects by Jean Touret and Odile Noll. But the gallery did a masterful job, with a a dimpled wood Touret dining table sharing the space with a pair of blocky wood chairs by contemporary woodsman-turned-artist Dan Pollock.
Highlights from Design Miami/Paris 2023
The fair starts in the courtyard, with François-Xavier Lalanne's life-size "Ane Attelé" (1989), a delightful bronze donkey pulling a cart, presented by Galerie Mitterrand. It continues behind the house, in the extraordinary garden, with oversized, sculptural pieces such as a Jean Prouvé 6x6 demountable house presented by Galerie Patrick Seguin (and immediately sold to a collector in the United States).
Inside the house, Seguin shares a large salon with gilded walls with another French design heavyweight, Galerie Kreo. 'We were very happy this location was chosen, because we know it well,' said Kreo's Didier Krzentowski. 'Karl Lagerfeld bought a lot from us.' He presents furniture by a range of designers, including Marc Newson, Jaime Hayon, and Guillaume Bardet, who was chosen to create liturgical objects for the Notre-Dame Cathedral.
It is fascinating to see how different pieces from the past century fit into the ornate setting. Ketabi Bourdet Design, a specialist in the 1980s and 90s, tests the limits with the black "Tankette" coffee table by Paulo Pallucco and Mireille Rivier. Milan's Rossella Colombari chose her furniture offerings, such as a rare 1960s dining room set by Fausto Bontempi, to play off the soft blue trim on the walls. A veteran of design fairs, she welcomed the chance 'to show beautiful pieces in an ambiance like this, rather than in stand after stand after stand.'
A small side room in delicate shades of gray was like a boîte à bijoux for Karry Berreby, who exhibited couture jewellery, including a 1960s black-and-enamel Bulgari Serpenti watch, in a glass-fronted case built into the wall. 'This room is incredible, like a little boudoir,' she said.
The winner of the Design Miami's award for best historical piece was a cherry red Polar Bear sofa set by Jean Royère. Dealer Jacques Lacoste explained that after seeing a drawing of the set in their Royère archives, along with the name of the original client, his staff wrote 200 letters to everyone around Paris with that name. Five years later, the owners called, and Lacoste managed to secure the set right before the fair. 'It's practically unused,' he said. 'And to have five pieces in one set, it's the first time we've seen that.' By the time the fair opened, it had already sold.
This is the month when Paris is swarming with art and design lovers from around the world. One of them, Mexico City-based collector and gallery owner Rudy Weissenberg, confided that he had his eye on a striking 1968 Wharton Esherick sofa with cherry slats and a walnut back, shown by Philadelphia's Moderne Gallery. He was not alone in admiring it.
'In Basel everyone comes for the afternoon, then they're gone,' said Zesty Meyers, co-founder of New York's R & Company gallery. 'Here, people are staying for several days.' Among the treasures on his stand were Heinz award-winner Roberto Lugo's ceramic vessels decorated with portraits of Bob Marley and Evander Holyfield.
Ceramics were prominent in many galleries. The Monaco-based Galerie Lebreton, specialising in French ceramics from 1950 to 1970, won the award for best overall presentation. They made great use of two colourful marble wall niches, tucking a pair of Jean Derval bull head sconces into them. Lining a nearby hallway were some of artist-designer Ronan Bouroullec's new lamps, like porcelain mushroom caps on simple metal stems, made in conjunction with the Galerie Sèvres.
British artist-designer Samuel Ross came to Paris to present a sculptural yellow bench in CNC steel. In November, three versions of the bench, painted white, will be permanently installed in the Miami Design District. Ross said, 'I always think about the first time I saw a Henry Moore piece with my father in Kensington gardens, and thought: who, what, why and where? I want to be able to solicit that type of response. How we can leverage the public forum to bring people closer to sculpture?'
Now that Basic.Space has acquired Design Miami, the site's founder, Jesse Lee, is asking similar questions: how can he use the two companies' synergies to expand markets and categories for both? In Paris for the fair, he mentioned cross-disciplinary talents such as Ross, and projects like last year's Bottega Veneta-Gaetano Pesce collab, that lead young people from fashion to a desire for design. 'Cool kids, even on our own site, more and more they want that. Anyone in their 20s and 30s is taking a photo of their bathroom. What's in the bathroom is cooler than what's in the closet.'
Design Miami/Paris is on view until 22 October 2023
L'hôtel de Maisons
51 Rue de l'Université
75007 Paris
Receive our daily digest of inspiration, escapism and design stories from around the world direct to your inbox