Digital marketplace Basic.Space acquires Design Miami/
Seller-focused social commerce platform Basic.Space acquires the staple collective design fair with ambitions of expanding its online presence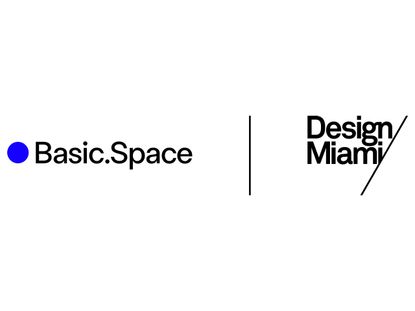 (Image credit: Courtesy Basic.Space and Design Miami/)
For almost two decades, Design Miami/ has led the charge in legitimising the collectible design industry. The established platform has just been acquired by bicoastal U.S. e-commerce platform Basic.Space, who hopes to grow its digital presence and harness its cultural cache while tapping into new collectible sectors.
Basic.Space acquires Design Miami/
The news comes as Design Miami/ opens its first Paris edition. After a last minute cancellation last fall, the 'preeminent global forum for collectible design' is making waves in this evolving market, one that is increasingly turning its attention to an international rather than internal audience. On view until 22 October 2023, the event has brought some of Design Miami/'s core exhibitors to the French capital.
They include New York's Salon 94, Superhouse, and Friedman Benda; London's Adrian Sassoon and Sarah Myerscough; and a whole host of Parisian galleries. Works on view range from time-honoured shelving unit concepts by Jean Prouve to experimental ceramic vessels and highly ornamented credenzas blending in cast bronze and rare stone. Think Vincenzo De Cotiis. The fair is being held alongside Art Basel and a slew of corresponding events englobed as the newly codified Paris Art Week.
As a multimodal platform promoting a select group of 500 vetted purveyors and independent artists—working in a wide variety of mediums—Basic.Space shares a similar spirit of openness and interest in providing its customers with a diverse offering, if not also an inherent understanding of quality. This e-commerce rivals the likes of 1stDibs in an ability to carefully curate its selection of wares—everything from apparel to vintage accessories—if not also a balanced IRL and URL shopping experience.
Joining Forces
The new venture will see the online resource tap into the cultural cache of the revered fair and its other activities—a popular shop and expert editorial platform, among other franchised ventures—and in turn, it will optimise its online reach and harness the brand while entering new markets. The ultimate aim is to get in front of a younger audience of collectors, making purchases at different price points. They'll now be able to acquire everything from highly sought after rare Hot Wheels toy model cars to the antique Pierre Jeanneret Chair.
'Our community has become passionate about products beyond fashion, spending more on collectible design and related categories, and valuing both historic and contemporary material. This is an opportunity to both meet that demand and shape how this and future generations will consume,' says Basic.Space Founder and CEO, Jesse Lee. 'To us, design isn't just a product category; it's a mindset and a point of view that guides you through every purchase decision. We believe that everyone should have access to exceptional products from uniquely creative individuals and brands; this partnership also helps us expand globally.'
Design Miami/ will remain independent with Jennifer Roberts as CEO and Lee serving as chairman. The acquisition is an all-stock transaction reflective of all stakeholders' shared long-term vision for potential growth and wider impact.
Receive our daily digest of inspiration, escapism and design stories from around the world direct to your inbox