Paris' Cravan is a cocktail bar, library and more
Franck Audoux teamed up with Moët Hennessy on Cravan, a bar in the heart of Paris' literary quartier, with interiors by Ramy Fischler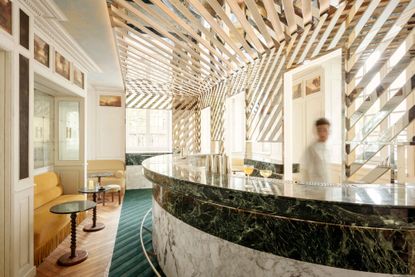 (Image credit: Courtesy Cravan)
Franck Audoux has brought his Paris cocktail bar Cravan to a second location in Saint-Germain-des-Prés. The original 16eme arrondissement address has long been a destination for both drinks and design thanks to its unique home: an 1911 building signed by Hector Guimard. Audoux has now teamed up with Moët Hennessy to realise a larger Cravan in the heart of Paris' literary quartier, and tapped Ramy Fischler to oversee the interiors.
Cravan, Paris
The result is a natural extension of the original Cravan; a larger space and longer menu but which embodies the same philosophy. 'Cocktails are a window to different universes: design, art, music, literature… all the elements that are in Cravan,' says Franck. 'The original Cravan is like a teaser. Here, all these elements are amplified.'
As the 17th century property was previously used for retail, notably for French jewellery house Chaumet, the first step was to break down the boutique layout in order to rebuild as a bar. The idea of duality underpins the design, a nod to Cravan's namesake Arthur Cravan who, as both a boxer and a poet, inhabited two contrasting worlds.
Fischler looked through 17th century archives to meticulously recreate period fittings such as wall mouldings and on the ground floor, dubbed "Petit Cravan", design details were lifted directly from the original location, note the glass ceiling and tiled floor, and replicated by a team of artisans. But whilst Fischler has kept an eye on the past he has also approached the project with a contemporary gaze. Case in point, the addition of a second, surprisingly industrial bright red staircase which offsets the 17th-century style wooden steps in the original stairwell. 'I like the idea of being lost in time between floors,' explains Audoux.
Up on the first floor, Audoux describes the '70s and '80-inspired decor as 'more electric.' The sleek mirrored ceiling, which gives the space a club night feel, cleverly mimics the lines of the parquet flooring and forest green carpet and, of course, contrasts with the 17th century backdrop of subdued landscape paintings and wood panelling. A smooth marble bar sits centre stage and matches the marble tables, which have been gathered together in a snug to recreate the natural intimacy of the smaller original Cravan.
Behind the bar, referred to as 'backstage' by Audoux, guests can grab a more private table partially hidden by the shaking and stirring going on at the front. To build sustainability into the design, stools and sofas have been mostly covered in fabrics from Nona Source, an LVMH-back platform which provides professionals with deadstock fabrics from renowned luxury houses.
Choose your staircase up to the second floor to find a bar-slash-library space in partnership with Rizzoli NY, the publishers of Audoux's own book, French Moderne Cocktail. Here, guests can lounge on canapés clad in red velvet, Cravan's signature colour, and browse through a collection of Rizzoli tomes which showcase Cravan's elements and art de vivre.
Perhaps Cravan's duality is expressed most clearly on the third floor, where rich parquet flooring, rustic beams and three period fireplaces - one original - are contrasted to maximum effect with a blocky industrial metal bar. On the next floor up is an invitation-only space, crowned by more original wooden beams, that leads via a staircase to a mini kiosk on the secret rooftop. Intended for the most intimate of soirées, Audoux also plans to host al fresco film screenings, making the space the world's smallest cinema, and perhaps the only one with views of Paris' iconic Haussmann architecture.
Cravan, 165 Bd Saint-Germain, 75006 Paris
Receive our daily digest of inspiration, escapism and design stories from around the world direct to your inbox