Triennale pays tribute to Angelo Mangiarotti with extensive retrospective
'Angelo Mangiarotti: When Structures Take Shape' (until 23 April 2023) is an extensive retrospective of the Milanese architect's work, with contributions from Renzo Piano and UniFor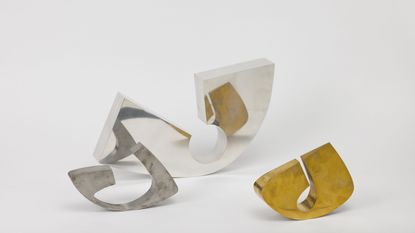 (Image credit: Gianluca Di Ioia, Courtesy Fondazione Angelo Mangiarotti Triennale Milano)
Museo del Design La Triennale in Milan unveiled a new comprehensive exhibition dedicated to Angelo Mangiarotti (1921-2012). The exhibition is an homage to the design master, who conceived some of the most influential pieces in the history of design and is now celebrated by one of Italy's most respectable institutions.
Curated by Fulvio Irace with Francesca Albani, Franz Graf (architecture section), Luca Pietro Nicoletti (sculpture section) and Marco Sammicheli (design section), and realised with the support of Giulio Barazzetta, the exhibition 'Angelo Mangiarotti: When Structures Take Shape' will run until 23 April 2023. Among the contributors to the exhibition is Renzo Piano, who had worked closely with Mangiarotti and worked on the exhibition set-up, while the installation was created by Ottavio Di Blasi & Partners. UniFor was part of the exhibition as a technical sponsor, the exhibition design being based on Luca Meda's metal structure for the 'Progetto 25' office partition system.
'Angelo Mangiarotti: When Structures Take Shape' at Triennale
This retrospective retraces the more than 60-year career of this eclectic and unique architect through material including designs that have never been shown to the public before. 'For many years, Triennale Milano has been working on a project devoted to the great Italian masters of design, from Enzo Mari to Ettore Sottsass, to Achille Castiglioni and Pietro Lingeri,' comments architect Stefano Boeri, president of Triennale. 'The latest is Angelo Mangiarotti, an eclectic international personality who over the years carried out superb experiments in the fields of architecture, design, sculpture and infrastructure planning. The retrospective gives this key figure in 20th-century design his rightful place in history. We are particularly grateful to Renzo Piano for his participation in this important project – he himself studied under Mangiarotti and worked with him on the 14th International Exhibition in 1968, right here at Triennale.'
The exhibition aims to point out how Mangiarotti was able to approach every design problem as part of a broader issue. 'The exhibition at Triennale is the first opportunity we have had to reveal the great master's truly complex nature,' adds curator Fulvio Irace. 'This has long been ignored in favour of his reputation as a builder who focused on the processes of material culture and on the techniques of prefabrication. While it is true that Mangiarotti reinvented the eternal archetype of the post and lintel, so to speak, using it throughout his career in an astonishing range of variations, it is equally true that – as the exhibition points out – his work contains a creative vein of great plastic and sculptural power, which places it in the domain of art as well as in that of architecture and design.'
The exhibition catalogue is edited by Irace and published by Electa. As part of the exhibition is also an original film titled Un Angelo su Milano: Mangiarotti e la città (An angel on Milan; Mangiarotti and the city), produced by Muse Factory Projects, founded by Francesca Molteni.
'Angelo Mangiarotti: When Structures Take Shape' is on view until 23 April 2023
Triennale, Viale Emilio Alemagna, 6
triennale.org (opens in new tab)
Maria Cristina Didero is an independent design curator, consultant and author, who has contributed to many publications over the years; she is currently Milan editor of Wallpaper* . Didero has consulted for companies such as Vitra, Fritz Hansen, Lexus, Fendi, Louis Vuitton, Valextra among others. Based in Milan, she works internationally, curating exhibitions for institutions: some of her most recent projects include Nendo: The Space in Between and The Conversation Show at the Holon Design Museum, Israel; FUN HOUSE by Snarkitecture at National Building Museum, Washington D.C.; SuperDesign a project about Italian radical design, NY; Vegan Design, or the Art of Reduction by Erez Nevi and The Fish and The Crowd by Carlo Massoud, Milan. In April 2022 she curated a Mathieu Lehanneur exhibition at the Triennale in Milan called The Inventory of Life, while in July she debuted a project at the MK&G in Hamburg titled Ask Me if I Believe in the Future, alongside a series of ongoing collaborations. She was appointed 2022 Curatorial Director of Design Miami/. She is currently preparing two projects for Milan Design Week 2023.