Topi's environmental skincare is made for travellers
The new environmental skincare line from brand curator Quentin Smith and Régime des Fleurs founder Alia Raza explores the possibilities of climate-specific products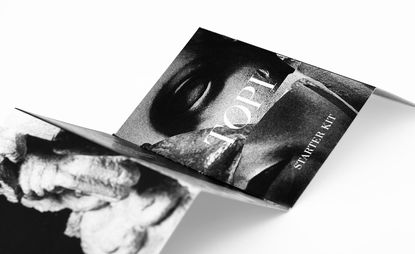 (Image credit: press)
Topi is a new 'climatic' or environmental skincare brand designed to protect skin from the everyday changes in our surroundings. It's true that the lockdowns of the past year or so have resulted in very few of us experiencing any environmental changes at all.

Yet Topi is a brand designed for the future; a future in which air travel will once again make it possible to travel between drastically different climates in a day, but also a future in which we will continue to expose our skin to the differences in indoor and outdoor air, artificial temperature control and natural elements, screens and sunlight, all on a daily basis.
Topi was founded by brand curator and entrepreneur Quentin Smith, and Alia Raza, the perfumer behind the ultra-hip fragrance line Régime des Fleurs.
'I've always had an interest in medicinal botanics,' says Smith about the inspiration behind the brand, 'and I wanted to find other ways of using them that made sense for how I like to care for my skin and interact with my environment on a day-to-day basis.'

Pursuing the idea of environmental skincare, the pair have created two vegan skincare serums, a Sun Serum and a Snow Serum, that use botanical ingredients to form a protective barrier on the skin's surface.
An inclusive formulation
The Sun Serum is best combined with sunscreen and worn during the day, especially in warmer and damper climates. A few drops of it contains powerful concentrations of skin-brightening and collagen-promoting vitamin C, anti-inflammatory pure cannabidiol, and cacao seed for environmental and blue light protection.
The Snow Serum works well as a night serum or worn during the day in cooler seasons and drier weather. It contains a powerful blend of skin-smoothing niacinamide, hydrating Bulgarian rosewater, and nourishing plant and seed oils.
'We use ingredients that work for every skin type and across a range of environments,' says Raza. 'We don't use anything that could be irritating, and that includes certain fragrances. As a perfumer, I've spent years studying both natural and synthetic aromatic materials and I know what's good for your face and what isn't.'
She continues, 'It was also important that the products worked for both of us. We have different skin types. Mine is super sensitive and reactive; Quentin's is more resilient. For us, it goes without saying that a well-formulated product will work regardless of skin type, age, colour, and location. Quentin lives in southern California where it's always sunny and dry, I'm in Paris where it's cool and rainy. The products work everywhere.'
A unique logo
While Topi's formulations are impressive, it is the brand's design that really makes it stand out.

Smith and Raza commissioned artist Klee van Schoonhoven to create the branding, which features a face that, according to Smith, 'represents ancient ideals of beauty throughout the ages and across cultures'.
'The face, which is found in various configurations throughout our packaging, represents the Topi brand ethos of inclusion and representation of beauty in all forms,' says Smith. 'The face expands upon concepts of beauty that have existed in all cultures for centuries, and how these ideals have been expressed artistically.'
It's a skincare line designed for everyone, in every part of the world – now, that is the future.
INFORMATION
Receive our daily digest of inspiration, escapism and design stories from around the world direct to your inbox
Writer and Wallpaper* Contributing Editor
Mary Cleary is a writer based in London and New York. Previously beauty & grooming editor at Wallpaper*, she is now a contributing editor, alongside writing for various publications on all aspects of culture.