Simple fixes for allergy eyes and screen fatigue
We share the quick fixes for all types of eye irritation– from allergy eyes and blue-light burning to general dryness and itching.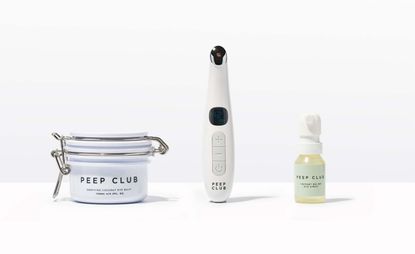 (Image credit: press)
Many of us have had to adjust to spending more time on a screen this past year, but forcing our eyes to make the same adjustment isn't easy. With the amount of time we're spending on-screen set only to increase, averaging as much as ten hours a day by 2030 according to one study, there's no doubt our eyes will be feeling the strain. And if that wasn't bad enough, the arrival of allergy season has brought a whole host of new eye-watering irritants.

So to those who have allergy eyes, screen fatigue, blurry vision, or any other type of ocular ache, we invite you to look through our edit of soothing remedies and gadgets (opens in new tab). It's a sight for sore eyes.
Dr. Hauschka's Eye Revive drops
Whether your eyes are dry from staring at a screen all day or itchy from seasonal allergies, Dr. Hauschka's Eye Revive uses a combination of floral extracts to naturally, and quickly, alleviate irritation. Fennel seed extract, rose oil, and chamomile are blended together in these individual ampoules of droplets, which can be kept in your wallet or purse for easy relief.

drhauschka.com (opens in new tab)
Nobel Panacea Vibrant Eye Infusion
When eye discomfort gets to be too much, it might be time to turn to a Nobel Prize-winning chemist for help. The Brilliant Vibrant Eye Infusion from Noble Panacea is formulated with caffeine, ginkgo, and oat amino acids that reduce the appearance of dark circles and puffiness often caused by airborne allergens.
noblepanacea.com (opens in new tab)
Peep Club's Refresher Kit for Tired Eyes
Peep Club is a new brand specifically dedicated to treating the painful symptoms of dry eyes. Created by optometrists, Peep Club has pioneered a range of soothing tools. These include an infrared-powered, massaging Heated Eye Wand, a blue-light shielding Soothing Coconut Eye Balm, and gentle Reusable Bamboo Cotton Pads.
Our favourite is the brand's Refresher Kit for Tired Eyes, which includes the heated wand, eye balm, and its latest launch, the Instant Relief Eye Spay. Formulated with wild-harvested sea buckthorn and sodium hyaluronate, or 'artificial tears,' the spray offers the instant relief tired eyes need after hours in front of the computer.
peepclub.com (opens in new tab)
Ace & Tate's contact lenses
Anyone who's felt the frustration of cloudy glasses by caused face masks can now breath a (fog less) sigh of relief. That's because Dutch eyewear brand Ace & Tate has just released its first line of contact lens designed for irritation-free wear. The lenses come in the world's slimmest lens sleeve for maximum sustainability (opens in new tab) and are engineered with Ace & Tate's patented Smart Touch technology to deter the transfer of bacteria or debris.
Even better, the lens' Smart Fit technology naturally orients the lens and its biomimetic material locks in moisture, making them easy to wear on even the most sensitive of eyes.
aceandtate.com (opens in new tab)
Loro Piana's eye mask
Dry eyes are often caused by incomplete eyelid closure during sleep, which results in painful, irritated eyes during the day. Using a sleep mask is an easy way to ensure retention of moisture on the cornea, and there's no better option out there than Loro Piana's cashmere mask. Made from the brand's signature super soft cashmere, the mask feels so dreamy that you'll be sleeping in no time.
loropiana.com (opens in new tab)
Kensington's screen protector
A screen protector is an easy way to protect both your skin and eyes from the damaging effects of blue light. Kensington's UltraThin Magnetic Privacy Screen is the reliable bet for Mac users, who can purchase the protector from the Apple store. Not only does the screen protect the monitor from scratches and damage, but it also reduces 22% of blue light damage.
apple.com (opens in new tab)
MZ Skin eye masks
Are luxurious relief for tired eyes. The masks contain collagen, hyaluronic acid, and seaweed to brighten dark circles and reduce puffiness, and are also infused with Nano Gold particles to improve penetration and add radiance.
When your eye area is particularly achy, try popping these masks into the fridge for a few minutes and feel the calming cooling sensation upon application.
mzskin.com (opens in new tab)
Mary Cleary is the Beauty & Grooming Editor of Wallpaper*. Having been with the brand since 2017, she became an editor in February 2020 with the launch of the brand's new beauty & grooming channel. Her work seeks to offer a new perspective on beauty, focusing on the pioneering personalities, product designs, and transformative trends within the industry.