This cleansing spray takes a cue from medieval medicine
Santa Maria Novella's new Cleansing Spray uses an ancient herb for an elegant and effective multipurpose cleaner and sanitiser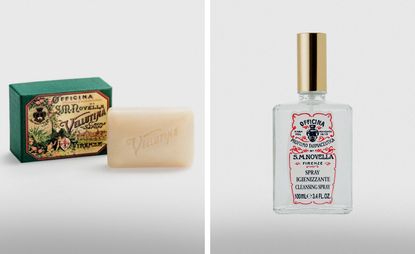 (Image credit: press)
Leave it to Europe's oldest apothecary to create a handy sanitising formula for our health-conscious times.
The new Cleansing Spray from Santa Maria Novella deodorises and sanitises everything from fabrics to surfaces and skin with a simple spritz. It can be sprayed on any type of fabric – from the couch to a face mask – on your desk as a quick surface cleaner, or on hands as a lightly perfumed sanitiser.
The spray's effectiveness is down to its unique blend of alcohol and costmary extract, a plant oil that is practically medieval medicine's equivalent to aspirin – a remedy used to ameliorate everything from menstrual cramps to headaches, digestive discomfort, and general achiness.
Santa Maria Novella: from ancient cures to contemporary cleanses
Santa Maria Novella has been creating innovative remedies with natural ingredients such as costmary since the Santa Maria Novella monastery was established by Dominican friars in 1221. The tinctures made by these Florentine holy men experienced increased popularity during the plague years of the 14th century, when perfume, in particular, was believed to have protective qualities against the 'bad air' thought to transmit diseases.
Products from that period still exist in today, including rose water, which was originally used to sanitise rooms and spaces, or mixed with wine and taken as an immunity booster.
Or take the brand's Aceto Aromatico, a sniffable vinegar inspired by the 'Vinegar of the Seven Thieves' that was used in Toulouse during the local plague of the late 1620s, burned in homes to ward off infections. The name comes from a story about seven thevies who used the tincture to protect themselves from contamination as they robbed the ill.
The Cleansing Spray is a continuation of this legacy, using traditional ingredients to create a product tailored to modern needs. We recommend keeping one in your bag to disinfect hands and sufaces throughout the day, as well as at home to easily freshen up home fabrics and clothes.
INFORMATION
Receive our daily digest of inspiration, escapism and design stories from around the world direct to your inbox
Writer and Wallpaper* Contributing Editor
Mary Cleary is a writer based in London and New York. Previously beauty & grooming editor at Wallpaper*, she is now a contributing editor, alongside writing for various publications on all aspects of culture.