Braun and Rankin celebrate modern masculinity
Ahead of his collaboration with Braun, we speak to the British photographer about the art of beauty photography and turning the camera on himself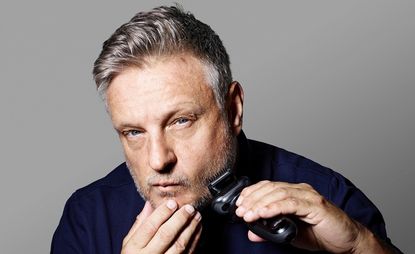 (Image credit: Rankin)
With nearly every famous face of the past 30 years in his portfolio and the creation of two magazines behind him, Dazed & Confused and Hunger, Rankin is a connoisseur of what people want to see.

For his latest project, 'Say it with a Shave', he's collaborated with German brand Braun on a virtual gallery that celebrates the expressive nature of personal shaving and grooming styles. Featuring original portraits by Rankin, the gallery has been launched in conjunction with the release of Braun's new Series 5, Series 6, and Series 7 shavers.

Ahead of the gallery's release, we spoke to the storied British photographer about the difference between beauty and fashion photography, what really makes a person 'beautiful', and what he's learned with age.
Wallpaper*: How did this collaboration with Braun come about and why did you want to work with them?
Rankin: Braun is a brand that's been in my life for a long time. I've done campaigns with them a few times, but my dad was just a massive fan of Braun when I was growing up. He was a businessman and he would shave in the car on the way to work. It was almost a ritual for him, listening to Radio 4 and shaving.

So I was really familiar with the brand and some of its history. When they asked me about this I was quite excited because it's the first thing that I've done where I was leading a campaign completely and being in it, which is very unusual for me. And I really liked the ideology behind it, I thought it was very reflective of the modern-day approach to male grooming and masculinity.

W*: Do you find shooting a beauty and grooming campaign is different from shooting a fashion campaign?
R: People think it's the same, but it's not. [With fashion photography] you've got to love the clothes and I've never loved the clothes. Whereas beauty is this amazing place in between fashion and portraiture, and there you can really experiment with the concepts and the conceits of what I love doing, which is about personality, or about body politics, or about masculinity or whatever it is. You can really use what you're doing to express those [ideas] and talk about them, whilst also taking great portraits of people and making them part of that story.

Beauty photography is a nice balance between portraiture and fashion, so I'm in my happy place when I'm doing that type of work. But a lot of photographers don't shoot beauty like that, they shoot beauty like a still life or bring the fashion into it more. Whereas I'm more like, 'who is she? And what is she going to be doing?'

And because of that, who I cast is really important. I do tend to, especially in female beauty, go back to the same model again, and again, and again because you build up an incredible relationship with that person and they start to trust you in whatever madcap thing you're going to do.
W*: You've captured so many different forms of beauty – from supermodels to your Portrait Positive series (which documents 16 women with visible facial and bodily differences), to this one which addresses different forms of masculinity. Has your perception of beauty, or what beauty photography is, changed over the course of your career?

R: If you want to talk about change, what I've realised is that people's aesthetics are very interesting in that there's a lot of similarities between beautiful people. I did a project called 'Breeding', which was a kind of parody of models and how they have a very similar look and have a similar aesthetic. What's really interesting is the more you meet beautiful people the more you start looking at who they are as humans. You say, 'Oh my God, you're so beautiful,' but there are so many beautiful people that the aesthetics become less important.

And also, and this is very, very basic, just having grown old. Doing the job I do, youth has always been so important. I've always been preaching diversity in age but actually watching very young, beautiful people become old and still be beautiful, but just a different way, it's kind of like the proof of my pudding. It's just proved to me that actually, perfection is just the most boring thing.
W*: Do you feel a certain sense of responsibility as a photographer, when you put out these images that promote a certain version of beauty?

R: Of course, 100 per cent. I have always felt a responsibility to it and I think that's why I'm probably able to talk about it. You know, I've done product work and I've tried to sell kind of these dreams, but counter that I've always talked about retouching reality and I've always done these kinds of these personal projects [that push the boundaries of beauty].

So I think Braun doing something like this is a really good, positive statement about individuality, and about who you are and your aesthetic. This is where I always hoped we'd be, where we're choosing diverse people with really great personalities that are doing something that's important. They actually got, you know, proper professions and that's inspiring. I want to see kids inspired by that sort of stuff. I could be a photographer, I could be a DJ, or I could be a stylist, there is room for everyone in this business. Especially as it grows and grows and grows. So yeah I do, of course, feel a responsibility but I think that I've always tempered that with pushing this agenda.
W*: I think one of the great things about this campaign is that it feels like a celebration of masculinity in different variations. It's not just capturing one typical idea of masculinity that might have dominated the culture, even ten years ago.
R: I think what was funny even ten years ago is that people would say 'metro' wouldn't they? Or they would say, 'they're more in touch with their emotions.' But actually, it was a more guarded way of saying being macho is still okay. But it's not really okay. It doesn't make any sense, this patriarchal view.

What I think is interesting is that humanity was a bit further in advance of what was going on in the marketing industry. I think magazines got it, but ad agencies were still putting out these old kinds of cues that you were just like, 'people don't really think like this anymore. Why are you trying to sell this macho thing?' So I think what's happened, especially over lockdown, is we've just advanced very, very quickly and now we can have these very honest, open conversations.

W*: What about your own grooming regimen? What's that like?

R: So I trim, probably once a week. I generally do it because I think it makes me look better and think I've got hair at my age, which is always a good thing. I'm told. I've always expressed myself through my hair, and I got really into George Michael back in the day. He just had this look. I really like that look, and luckily for me, that's never gone away.
W*: Can you speak a bit more about the virtual gallery experience of this campaign?

R: I'm a big believer in the joy of missing out and not feeling like you have to always be connected. So this is a halfway house to me now that we can't do that at the moment. This is a good, positive place to go and look at something and think about things and I think the more we can have those in technology, the better.

Going and submerging yourself in culture is a very big part of my life, so I've really missed that [over the past few months] and I'm frustrated with that probably more than anything… also having haircuts. I miss talking to my hairdresser. I've got a very funny relationship [with him] and we really tease each other and he's a massive part of my life actually in a weird way.
W*: I don't think it's that weird.
R: Not in a weird way at all, you're right. It's not weird. We're kind of brothers, brothers in hair.

W*: Yeah, I guess there's something naturally quite intimate there because he's shaping how you look. Similar to what you do as a photographer, maybe.

R: Oh yeah, absolutely. I mean there's no doubt [that as a photographer] you are a practitioner of their aesthetic, of their comfort level. They really want to not look bad. People's aesthetic ego is a very important part of who they are and you have to appease that. And I've always thought, 'that's fine, don't worry about that bit. Let's get to the good bit, which is who you are.

I think it's easy to take aesthetically pleasing pictures of people without compromising the soul, or the heart, or whatever else you're trying to get to.
W*: Do you think that capturing that honest element of their personality is what makes them aesthetically pleasing?

R: No, I think the comfort level that they feel because they think they look good allows them to relax. I always call it a collaboration, but what it actually is is them giving parts of themselves to the image. So they're allowing themselves to drop the blind or, you know, the thing that's protecting them to be who they are. It can be performative, or it can be relaxed, or it can be stupid. I think I just go for a part of their personality and really try and get them to show me something about them. It is that easy, but it is that complicated.
W*: It doesn't sound that easy. Is it by being genuine with people in that way that you get the genuineness back from them?
R: Yeah, it's definitely about being authentic with them and honest with them. I'll show them the pictures if they want to see them early on. You're creating a piece of work together, it's never a solo act. Unfortunately, some people come and are rigid and find it very difficult, but most of the time I can break through and get them to relax.

W*: What about taking your own photo? What was it like doing that for this campaign?
R: I never really want to show myself because, this is maybe going to sound a bit airy fairy, but I look at my pictures and I see myself in them all the time. I'm there in the picture I've taken. I've spent my whole life doing that, that's my life's work, in a way. I've always been very comfortable with that. Whenever I take self-portraits, I've always made them very much about the comedic, or about what photography is about, or what I think people see me as. They're never been about me. So it was really nice to just go: 'okay, here I am.'

I guess I feel comfortable now. My teenage angst lasted until I was about 36, and has kind of fallen away. I'm much more comfortable in my skin. So it was nice. For the first time, I enjoyed it.
INFORMATION
Mary Cleary is the Beauty & Grooming Editor of Wallpaper*. Having been with the brand since 2017, she became an editor in February 2020 with the launch of the brand's new beauty & grooming channel. Her work seeks to offer a new perspective on beauty, focusing on the pioneering personalities, product designs, and transformative trends within the industry.
With contributions from