White Cube opens a Hong Kong gallery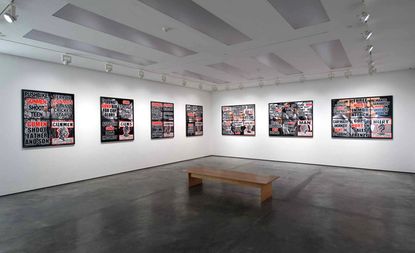 (Image credit: Gilbert & George)
Adding to the burgeoning art scene in Hong Kong is a new gallery from London art powerhouse, White Cube (opens in new tab). Collectors and artists swarmed in from all around the region for the opening night of the first exhibition, dedicated to British artists Gilbert & George (opens in new tab), whose London Pictures series is also on show in White Cube's three London galleries.

Located on Connaught Road, the Hong Kong outpost is White Cube's first overseas venture. It takes over the ground and first floor of a 27-storey tower, by New York-based architect Robert AM Stern (opens in new tab).

The gallery is a generous space of 550 m². London-based Maybank and Matthews Architects (opens in new tab) have captured the spirit and standard of White Cube, creating a clean and classic gallery, cleverly playing with light and shadow.
On the walls are 22 pictures from Gilbert & George's London Pictures series, which is based on posters from London newspaper sellers' posters they have stolen over the last six years. With slogans like 'My mate tried to murder me' and 'ex-soldier beat pal into coma', the collection is an epic survey of modern urban life in all its volatility, tragedy, absurdity and routine violence.

London Pictures is part of an ambitious exhibition programmed, devised by director of exhibitions Tim Marlow, working in association with Graham Steele, White Cube director of Asia, and Laura Zhou, the new gallery director, formerly of ShanghArt Gallery (opens in new tab).

We caught up with Tim Marlow to find out his ambitions for White Cube Hong Kong.

Why Hong Kong and why now?

Hong Kong makes a lot of sense for number of reasons. It's a hub in the region for China, Taiwan, Singapore and Korea. And Hong Kong is interesting in itself, because of it's postcolonial culture; it's plan for the museum area in Western Kowloon; as well as its blooming art fair.

Why right now? Because it took us two years to find the right gallery space. The size of the gallery in Hong Kong is substantial, which matches the ambition of our shows.

What will be the focus of White Cube Hong Kong?

White Cube is fundamentally an international gallery. We want to bring the best international artists to Hong Kong. Now that we are here, we will be able to look for artists in the region too. But there is no solid plan yet to show regional work. We want to bring the best possible shows to Hong Kong, and that is the main direction.

What are your ambitions for the new gallery?

We are trying to develop the market for our artists. Serious collectors are emerging in the region, especially in Mainland China, and foundations are beginning to collect on a big scale. A lot of young collectors we have met are showing interest in Western art, which we hope to develop too. This is just the beginning of a new journey.

What do you think the gallery will contribute to the Chinese arts scene?

I would not put it in that way. But, judging by the number of people who came to the opening night, and to the talk I did at the British Council last week (which sold out three times over), people are very interested in what we are doing. Good artists and art are supposed to change the way you see the world. Art can be a powerful thing and we have created here a stage for powerful things to happen.

Why did you choose Gilbert & George for the opening gig?

I think all artists have an affection and respect for Gilbert & George. They have just made this large series of work and we suddenly realized what a brilliant opportunity to host its world premiere in Hong Kong. In the coming four months the show will be in London, New York, Brussels, Basel and Berlin too.

Also, Gilbert & George are great ambassadors for the art world and for British art. They were also the first major Western artists to have their solo show in Mainland China. It opened in 1993 at Beijing National Gallery, before travelling to Shanghai Art Museum. Many Chinese artists remember that show. Zhang Huan (opens in new tab) came up to Gilbert & George at the opening luncheon, and said, 'I saw that show in China. It was incredibly powerful for me.'

What are your expectations in terms of sales and response from the public?

The opening response to the Gilbert & George show has given us high hopes. The real hope, though, is to have a strong presence in the region, culturally and creatively, as much as commercially.

Who will be the next artists you bring to Hong Kong?

I can only tell you that the next show will open in early May, just a day before ART HK (opens in new tab) 12 kicks off.



ADDRESS
White Cube Hong Kong
50 Connaught Road Central
Hong Kong
VIEW GOOGLE MAPS (opens in new tab)
Yoko Choy is the China editor at Wallpaper* magazine, where she has contributed for over a decade. Her work has also been featured in numerous Chinese and international publications. As a creative and communications consultant, Yoko has worked with renowned institutions such as Art Basel and Beijing Design Week, as well as brands such as Hermès and Assouline. With dual bases in Hong Kong and Amsterdam, Yoko is an active participant in design awards judging panels and conferences, where she shares her mission of promoting cross-cultural exchange and translating insights from both the Eastern and Western worlds into a common creative language. Yoko is currently working on several exciting projects, including a sustainable lifestyle concept and a book on Chinese contemporary design.