'Types We Can Make' exhibition at MIT Museum, USA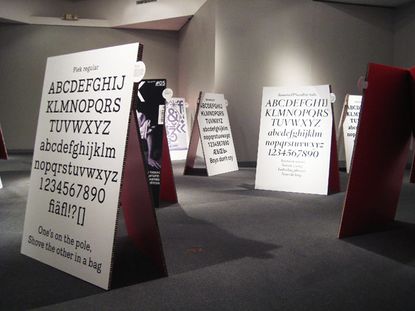 (Image credit: press)
With their 'International Typographic Style' - defined by its clean lines and asymmetric layouts - the Swiss blazed a trail in the world of graphic design in the 1950s. Now a new generation is having its turn in the spotlight, thanks to an exhibition curated by Lausanne design school, Ecal, at the Massachusetts Institute of Technology.
'Types We Can Make' at MIT Museum's Compton Gallery presents a selection of modern Swiss typography from the likes of Cornel Windlin (former art editor for The Face magazine) and Dimitri Bruni and Manuel Krebs of NORM (regular collaborators with the Tate Modern and the Museum for Design Zurich). Together they pay homage to their country's long typographic tradition, but challenge, subvert and play with it simultaneously, using both digital and traditional design tools and bold creative strokes.
Among the exhibits are font designs, artist monographs, magazines, poster illustrations and logos from design authorities, such as Sang Bleu magazine founder, Maxime Büchi, and Gavillet & Rust, who created the brand identity for Jay-Z's entertainment venture Roc Nation. The selection shows off the wide palette of type design emerging from Switzerland today.
ADDRESS
MIT Museum Compton Gallery
Building 10, Room 150
77 Massachusetts Avenue
Cambridge, MA 02139