Tree art is putting down roots: branching out or barking fad?
We get to the root of how artists are using trees for social change. Branching out or barking fad? Either way, arboreal art is having a moment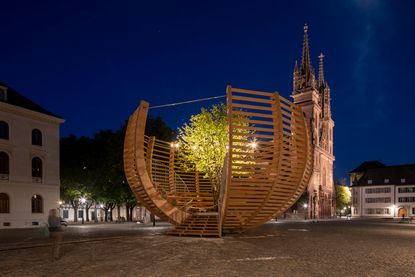 (Image credit: Gerhard Maurer)
It may sound far fetched, but we have it under good authority that art is starting to grow on trees. They line our parks, maintain our industries and sustain our existence. And trees' role in public installation art is far from revolutionary. One need only bark back to the artist and environmental activist Joseph Beuys' 7000 Oaks, a project first publicly presented in 1982 at the Documenta 7, it was part tree art, part gesture towards green urban renewal.

As the conversation around conservation heats up, particularly following the COP26 Climate Change Conference, trees have become the medium of choice to engage, educate and inspire audiences. Through tree art, with ambitious large-scale installations, artists are confronting our complex relationship with the natural world. They are also proving that art can be a living, breathing material, and serve a higher purpose than concept or aesthetics, as a vehicle for social change for a planet in peril. For The International Day of Forests (21 March 2022), we look into how contemporary artists appear to be barking up the right tree:
Artist: Hugh Hayden Location: Madison Square Park Conservancy, New York
The dawn of a new year marks a new tree-themed spectacle at the Madison Square Park Conservancy. Following on from Maya Lin's staggering Ghost Forest in 2021 (read more below), Hugh Hayden's most ambitious public project to date is no less impressive. Brier Patch is a gridded maze of 100 interconnected elementary school desks – each erupting with tree branches – and grouped accross four lawns in the park. Hayden's work takes the brier patch as a concept of both protection and peril, and draws connections to the disparities within the education system and the ideal of the American Dream. The commission will be on view until 24 April 2022, and is accompanied by public programmes focusing on storytelling and education.
Artist: Es Devlin Location: The New York Times Climate Hub, COP26, Glasgow
'The installation is inspired by Richard Powers' Pulitzer Prize-winning novel, The Overstory, in which the trees are the lead protagonists while the humans form the subplot', says Devlin. 'I am interested in placing Climate Hub visitors within an environment of a parallel gathering of trees, as if the trees are bearing witness, listening, and observing the progress that the humans may or may not make during the program of talks and COP26 negotiations which many are describing as our species' last chance to making the changes necessary to avert even more profound climate crisis.'
Artist: Klaus Littmann Location: Münsterplatz, Basel
In 2019, Swiss art interventionist Klaus Littmann stunned the arts and cultural scene when he filled a football stadium in the town of Klagenfurt with a full-grown forest. Inspiration for the project, aptly titled For Forest, began three decades ago, when Littmann caught sight of The Unending Attraction of Nature, a futuristic illustration by artist and architect Max Peintner. It pictured a stadium packed with spectators gazing towards a fully-grown forest. To some, this might have been an intriguing fantasy; to Littmann, it was an invitation to make it a reality.
More recently, in Basel, Littmann staged a two-part follow-up project. Whereas a football stadium was filled with 299 trees in Klagenfurt, Arena for a Tree, sited on Münsterplatz, featured a single tree as the sole stage actor. This walk-in tree art installation, where a solitary tree sits within a circular basket-like structure, invited 50 people inside at a time. 'Nature itself is a total work of art – it deserves an homage once in a while,' says Littmann, who also staged a concurrent exhibition at Kulturstiftung Basel H Geiger, titled 'Tree Connections'. The show featured 75 works by 45 artists, and sought to demonstrate the diversity of artistic engagement with nature.
Artist: Ackroyd & Harvey Location: Tate Modern, London
In 2021, Tate Modern hosted a living, breathing homage to the environment, and Joseph Beuys, 100 years since the artist's birth. Beuys' Acorns was a living sculpture where visitors can reconnect with art after lockdown, rethink their relationship to nature, and reflect on art, activism and the climate emergency. Frances Morris, director of Tate Modern said: 'Alongside our ongoing work to make Tate a more sustainable organisation, we also want to give a platform to artists, like Ackroyd & Harvey and Joseph Beuys, who inspire wider public conversations and spark positive change in us all.'
The project, which began in 2007, takes direct inspiration from Beuys' 7000 Oaks – City Forestation Instead of City Administration, in Kassel, Germany, a project that sought to raise ecological awareness, aid mental wellbeing and encourage all who encountered it to plant trees. As Ackroyd & Harvey explain, 'We feel a strong sense of protection towards these young trees in a time of enormous planetary instability when destruction of the world's forests increased sharply last year. Beuys called for the world to become a big forest: Beuys' Acorns declares a climate and ecological emergency and calls for a revolution of love in our relationship with nature.'
Artist: Maya Lin Location: Madison Square Park Conservancy, New York
Ghost Forest was both an art installation and a call to action. It draws on the eponymous and increasingly prevalent phenomenon whereby vast tracts of forests perish due to climate change. For the project, artist, architect, and activist Maya Lin and Madison Square Park Conservancy have created a grove of 49 spectral white cedar trees which loom large, and stark, amid the park's verdant landscape. Stripped back and leafless, the trees are a haunting reminder of a very real problem as the natural world continues to be ravaged by climate change-related causes.
Lin sourced trees for the installation from an area in New Jersey's Pine Barrens that has suffered extreme deprivation. In conjunction with the project, Lin and the conservancy devised a series of public programmes that support conversation and public action against climate change – from the planting of 1,000 trees and shrubs around New York City to talks with leading voices in the field and a series of nature-inspired musical performances curated by Carnegie Hall and performed from within the installation during the summer.
Artist: Superflux Location: Museum of Applied Arts (MAK), Vienna
Invocation for Hope was an immersive installation by Superflux that imagines a new vision for our planet's future. Commissioned for the Vienna Biennale for Change 2021 and created by the London-based design agency founded by Jon Ardern and Anab Jain, the installation comprised a vast indoor forest that sought to address the climate crisis with hope. In collaboration with the forestry and fire departments of Austria's Neunkirchen region, Superflux salvaged more than 400 trees that had been burnt in a recent wildfire and transplanted them to MAK.
As Jain explains, 'We want to foreground how we're part of a larger ecology rather than the masters of nature. Within this complex ecosystem, we all play a part in mutual survival and evolution. Without it, we cease to exist.' The piece addressed the potential of a 'more-than human' future – a post-anthropocentric planet in which humanity is just one component of a dynamic and multifaceted ecosystem. 'Climate change is not a problem we can "solve" but rather a predicament we must navigate with responsibility and urgency,' says Ardern.
Receive our daily digest of inspiration, escapism and design stories from around the world direct to your inbox
Harriet Lloyd-Smith was the Arts Editor of Wallpaper*, responsible for the art pages across digital and print, including profiles, exhibition reviews, and contemporary art collaborations. She started at Wallpaper* in 2017 and has written for leading contemporary art publications, auction houses and arts charities, and lectured on review writing and art journalism. When she's not writing about art, she's making her own.