Tomás Saraceno's aerosolar sculptures take flight in Miami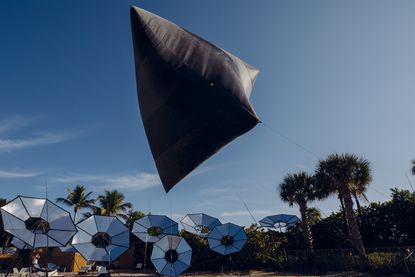 (Image credit: TBC)
The unveiling of Tomás Saraceno's latest artwork during Art Basel Miami got off to an inauspicious start when inclement weather conditions forced the inaugural flight demonstration to be postponed. And yet, it only served to highlight the pressing environmental issues that he has been exploring in his multidisciplinary experiments with the Aerocene Foundation. 'That's the best beginning for a project on the weather dependancy that we're all trying to deal with,' the artist said at the opening.

Situated along Miami Beach's oceanfront across from Collins Park, Albedo comprises 40-odd reflective, out-turned umbrellas arranged in a large-scale temporal pavilion. Viewed from above, the experimental sundial forms a striking geometric constellation, while solar energy is used to lift aerosolar sculptures into the sky. The artist's investigations extend into daily performances, solar cooking events and community roundtables. Visitors are encouraged to get hands-on – they can borrow, build and share a tethered-flight starter backpack which enables anyone to launch a portable Aerocene sculpture using open-source instructions.
The artwork takes its name from the Latin term meaning whiteness, referring to amount of solar radiation reflected by a surface in comparison to the total amount it receives. 'We discovered recently that the colour of the surface that these sculptures fly over influences it a lot. Usually when it's a white surface you get a lot of reflection – it goes back to the sculpture itself and you have much more lift,' says the artist and recent Wallpaper* Guest Editor. 'It means when we perform human flights over a white surface you may be able to lift [up to] 200kg. When it's not so reflective you can't lift even one person.'

Audemars Piguet helped bring the Berlin-based artist's vision to life in the same site that has previously hosted three forward-thinking art installations by the Swiss watchmaker. Like the Aerocene project, these earlier ventures by Sun Xun, Lars Jan and Theo Jansen have probed our ecological future with interactive installations that have often been achieved with the help of scientists and technologists.

Albedo springs from Saracéno's long-term global investigation into achieving 'an ethical collaboration with the atmosphere' through fossil fuel-free movement. His research been exhibited globally, from Korea to the US and most recently, at the Palais de Tokyo in Paris where has taken over the entirety of its 13,000 sq m exhibition spaces for the fourth edition of the institution's cartes blanche.
INFORMATION
Albedo is on view until 9 December. For more information, visit Tomás Saraceno's website and the Aerocene website
ADDRESS
Oceanfront between 21st and 22nd Streets
Miami Beach