Tom Blachford creates a cinematic dystopia from Japan's brutalist past
In a new chapter of his series Nihon Noir, the night-crawling photographer captures the futuristic metropolises of Tokyo and Kyoto to dystopian effect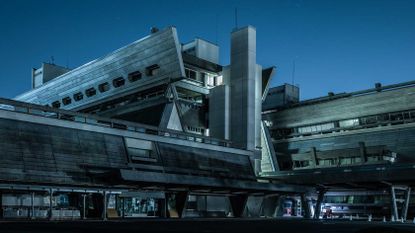 (Image credit: Tom Blachford)
Photographers are known to take inventive, sometimes extreme steps for the right shot. But in Tom Blachford's case, extraordinary measures are something of a calling.

The Melbourne-based photographer has a penchant for the nighttime, creating work that spins mundane urban and suburban architectural environments into something altogether beyond this world.

In 2018, Blachford's taste for the uncanny took him to Tokyo, a city he describes as a 'parallel future where everything is more alien than familiar.' The resulting series, Nihon Noir was one rooted in the artist's fascination with the city, with images that, 'ask more questions than they could ever answer'. Its title drew on the Neo-Noir film genre, and Blachford cites Blade Runner, as well as the later work of Danish director Nicolas Winding Refn, including Drive and Only God Forgives as key influences.
Nihon Noir began by tracing the work Japanese architect Kenzō Tange and the Metabolism movement in post-war architecture. 'I selected a core list of buildings that embodied the Metabolist philosophy, which attempted to combine the creation of brutalist megastructures with the principles of organic growth,' Blachford said of the project. He also took to street level, capturing urban vistas that drew on the 'cyberpunk feeling' of Tokyo.

Blachford harnessed only existing light sources, in this case, by the glow of Tokyo's neon lights. Previous projects made us of similar constraints: Midnight Modern (Palm Springs) was illuminated by moonlight and Noct Angeles (Los Angeles) by the harsh artificiality of street lamps.


RELATED STORY
In a new chapter, Nihon Noir 2099, Blachford has widened his lens to locales and architectural landmarks in Kyoto. Eerily devoid of human activity, the series surveys modernist, Metabolist and postmodernist architecture, including the likes of Kengo Kuma's M2 building – supposedly one of the Pritzker Prize-winner's greatest regrets, the angular Kyoto International Conference Center, Tokyo Big Sight and the TIT Centennial Hall.
Forever seeking the 'impossible perspective', the night-crawling artist's hunt for unorthodox vantage points are stories in themselves. In the first iteration of the series, Blachford took to rooftops, stairwells and even commandeered a road worker's crane lift to capture the Nakagin Capsule Tower. For Nihon Noir 2099, Blachford recalls how the staff of a late-night restaurant took a window off the hinges before he realised the rooftop would secure the perfect angle of the Edo-Tokyo Museum.

Blachford's vivid and often foreboding scenes are drenched in a hyper-saturated, high contrast colour palette of pinks, blues and purples, and make use of a cinematic 16:9 crop, a departure from the first chapter. All shot between 10 pm and 4 am, his subjects exist in suspension: simultaneously in the past, present and future.

Though shot in early 2019, the series holds new resonance, in a time when empty streets are not dystopian fantasy, but reality. Nihon Noir 2099 feels like a poignant, and cinematic record of our post-pandemic era: desolate metropolises tinged with surrealism and bleakness, with a potent dose of intrigue.
INFORMATION