Photographer Tom Blachford engineers an impossible vision of Melbourne architecture
The Australian city becomes a dizzying spectacle of buildings and lights in his dystopian new series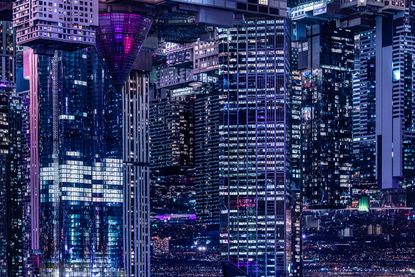 (Image credit: Tom Blachford)
Tom Blachford is a creature of the night. From Palm Springs to Tokyo and Bolivia, the Australian photographer has dwelled patiently in the dark, composing his immaculate studies of moonlit mid-century houses, residential skyscrapers and civic buildings. Now, Blachford is stepping out of the shadows to enjoy a moment in the spotlight in his home city of Melbourne, where an exhibition of his new series Centro Verso has just opened at Backwoods Gallery in Collingwood.
At first glance, the dizzying images – drenched in vivid blue and purple hues – could be mistaken for photographic collages of metropolises from around the world, merged into an impossible dystopia. In fact, Blachford didn't have to venture as far as he normally does, capturing the series from a single rooftop 57 floors up in Melbourne's CBD using a long lens and extended exposure times.
'The idea was to take my aesthetic of shooting at night in cities and try to confuse both when and where,' he told Wallpaper* ahead of the opening. Blachford lists Inception and Blade Runner among his inspirations, but the images are rich with visual nods to MC Escher's iconic optical illusions. 'I am fascinated by how one simple tweak can completely short-circuit our brain's ability to perceive depth, perspective and time,' says the photographer.
RELATED STORY
The ever inquisitive Blachford ventured outside of the medium of photography for the first time, familiarising himself with CAD software, 3D printers and microprocessor programming. Some 450 hours later (and a few printing mishaps later), he produced five large-scale cityscape sculptures that are on view at the Collingwood gallery. 'I had no expectations and built things based on form,' he says. Blachford likens it to 'watching paint dry 1mm layer at a time', but adds that in spite of the painstakingly slow process, 'each morning was like Christmas' when he woke to new printouts.

Blachford's monolithic sculptures are a three-dimensional manifestation of a 'suspended city', endlessly multiplied by an infinity mirror illusion (he also cited the Philippines pavilion by Mark Justiniani at the recent Venice Biennale as an inspiration). There's a buzz of life, too, in the works, as the city lights 'dance' in response to a soundtrack penned by a composer friend of the photographer. It seems Blachford is enjoying stepping into the architect's seat: 'I haven't seen [3D printing] used to build impossible architecture,' he notes, 'and I want to keep creating impossible buildings.'
INFORMATION
'Centro Verso', until 8 December, Backwoods Gallery. tomblachford.com (opens in new tab); backwoods.gallery (opens in new tab)
ADDRESS
Backwoods Gallery
25 Easey Street
Collingwood VIC 3066
VIEW GOOGLE MAPS (opens in new tab)