Time bandit: Alicja Kwade installs 16 ft clock at Central Park
Alicja Kwade installs 16 ft clock at Central Park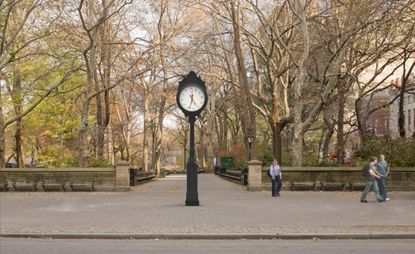 (Image credit: TBC)
With another new spin on clock-based art, the Polish-born, Berlin-based sculptor and installation artist Alicja Kwade (opens in new tab) is taking her rendition of time telling to new heights. Manhattan's Public Art Fund just installed Against the Run – Kwade's first solo public art commission in the United States – at the entrance to Central Park, directly opposite the storied Plaza Hotel.

For Kwade's most recent sculptural installation, she took her cues from the classic Manhattan street clock, much like the one directly in front of the Sherry Netherland Hotel, turning out a 16-ft-tall aluminium timepiece. Her work tells the time in a rather novel way – the face moves counter clockwise while the hour and minute hands turn in the opposite direction.

'There's a double take when a passerby glances up to check the time and all of a sudden realises that the clock is functioning in a way that no standard clock should,' points out Nicholas Baume, Public Art Fund Director.

The perplexing nature of this conceptual artwork presents a bevy of questions, which just happens to be Kwade's intention. 'It doesn't claim to be a work of art in the first moment you encounter it,' she explains, while installing her latest work.

'Instinctively people look up at a clock's face when they see one. But this one is different. With just some small changes, it becomes difficult to read and seems like it's trying to escape itself. That's what we all try to do, but we can't, and it can't also,' she adds.'I hope to create a surprising moment for each person to reflect on their feelings towards time.' Telling the time may be the never same again.
INFORMATION
Alicja Kwade's Against the Run will be on view until 21 February
ADDRESS
Doris C Freedman Plaza
Opposite Fifth Avenue entrance to Central Park at 59th Street
VIEW GOOGLE MAPS (opens in new tab)