Tim Noble and Sue Webster get the right end of the stick in their latest show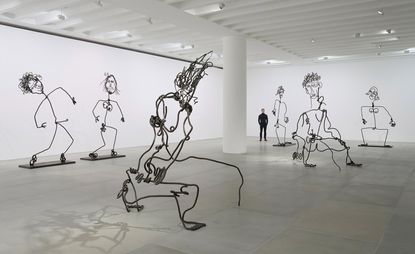 (Image credit: Peter Mallet)
Alice Dellal, the British-Brazilian model, is squeezing her boobs – half seductive, half sarcastic – towards a camera, imitating the pose of the supersize nude female sculpture that towers above her head. This summed up the atmosphere at BlainSouthern as Tim Noble and Sue Webster unveiled their third exhibition at the gallery, 'Sticks With Dicks and Slits' — a vibe very much catalysed by the works themselves, a series of giant self-portraits as stick figures.

Known for their unconventional work with self-portraiture, the YBA duo came up with the idea for the new sculptures during a residency in St Barts, yet the works are still very British, and very urban, poking fun at themselves, reduced to simplistic frames, but they also guffaw at the polished gallery goers, puny and fleshy below them — one Tim sculpture even urinates down on the viewer.
There are three couples in the show — three men, three women — each pair inhabiting a different pose, standing, seated and squatting. Sculpted in twisted bronze to look like wire, Noble and Webster's latest creations appear to have been fashioned with a fast energy, irreverent and spontaneous like the punk music that has been a constant inspiration to them – but their scale and medium of course implies a more careful, drawn-out process, using an antiquated method that involved casting rods of wax.

At first, this show appears to be little more than a send-up of the idea of the self in art, but the more time you spend with these comical stick men and women, the heavier their seemingly light frames become. A certain kind of balance emerges – it's physical, in that the very act of sculpting demands it, but it's also in the equal presence of masculine and feminine, chaotic and calm, among other things. It's not an obvious political statement, but a time when so little seems to make sense, stripping things down to their most rudimentary form might be the only thing we can do.
INFORMATION
'Sticks with Slits and Dicks' is on view until 25 March. For more information, visit the BlainSouthern website (opens in new tab)
ADDRESS
4 Hanover Square
London W1S 1BP
VIEW GOOGLE MAPS (opens in new tab)
Charlotte Jansen is a journalist and the author of two books on photography, Girl on Girl (2017) and Photography Now (2021). She is commissioning editor at Elephant magazine and has written on contemporary art and culture for The Guardian, the Financial Times, ELLE, the British Journal of Photography, Frieze and Artsy. Jansen is also presenter of Dior Talks podcast series, The Female Gaze.