Print's not dead: this year's music-themed LA Art Book Fair hit all the right notes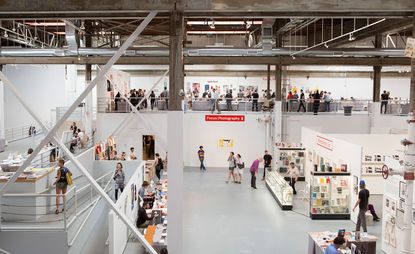 (Image credit: TBC)
A large mural of a green-haired girl reading a yellow book with the title 'Art' – by Misaki Kawai – overlooked the crowd as visitors gathered for Printed Matter's 2016 LA Art Book Fair (LAABF). The annual event invaded the Geffen Contemporary at MOCA for its fourth edition and ran until 14 February, bringing together a seemingly endless array of art catalogues, monographs, unique artists' books, periodicals and zines presented by more than 300 exhibitors from some 20 countries. Moon Uterus — comprising Mel Shimkovitz (DJ Macho Mel), Devendra Banhart aka (DJ Devvy Downer), Amy von Harrington (DJ penisgraffitiblacktooth) and Christeene — greeted visitors with sets outside the fair; while inside, the fair's namesake, Printed Matter, carried titles including The Zines of Paper Rad and Nude Animal Cigar.

A number of blue-chip galleries exhibited this year. David Zwirner Books highlighted Jason Rhoades, and carried everything from a $5 PeaRoeFoam poster reprinted from the original 2002 edition, to second edition of the Xerox Book. Hauser & Wirth was promoting its upcoming book, Revolution in the Making: Abstract Sculpture by Women 1947–2016,by displaying monographs on Eva Hesse, Louise Bourgeois, Mira Schendel and Phyllida Barlow. Most impressive was the Gagosian Gallery booth, which mounted a version of the legendary vinyl shop Feeding Tube Records in collaboration with Kim Gordon, featuring 30 original record covers by Rita Ackermann, Richard Prince, Laura Owens and more, which came with a 12-inch vinyl record by Body/Head, a duo made up of Gordon and Bill Nace.

Music was a big part of this year's LAABF; an exhibition of the Los Angeles hardcore scene exhibited the ephemera and images of the early 1980s, while Marc Selwyn Fine Art showed off images from the El Segundo Record Club. Politically-charged art was also on view, as in the special projects booth shared by Onestar Press, Three Star Books and Osmos. Another special exhibition in the fair traced the legacy of writer, producer, musician and artist Mason Williams during his time in the 1960s.

THE THING Quarterly had a table full of its object editions, like cotton sateen pillowcases by artist John Baldessari and Tucker Nichols napkins; while Edition Taube/HAMMANN&VONMIER had a number of quirky books, like Stefan Sulzer's musings on the first time his confused mother encountered the work of artist Robert Ryman, and Confessions of a Poor Collector, Eugene M Schwartz's 1970 guide on building a worthwhile art collection on a budget. The Posters hung a wall of affordable prints by artists like Tom of Finland, Andrew Kuo and the Haas Brothers, and zines from all over the world abounded.

With such a diverse mix of books (and more) on display at LAABF, it would have been difficult for somebody not to find something that piqued their interest, whatever the flavour.
INFORMATION
For more information, visit the LA Art Book Fair's website (opens in new tab)