A MoMA exhibit traces the parallels between art, design and computing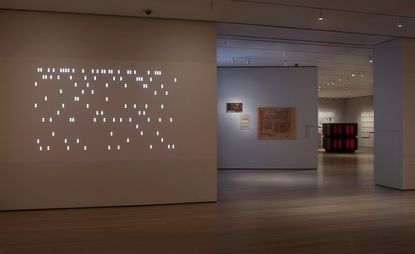 (Image credit: Peter Butler)
'Thinking Machines: Art and Design in the Computer Age, 1959-1989' assembles an eclectic array of artworks and equipment from the collection of the Museum of Modern Art that collectively documents the naissance of the digital age. Such a dramatic technological shift led some to assume that traditional art forms were obsolete, however, if art has one tradition it is that of evolution, which is amply demonstrated in this New York exhibition.

Beryl Korot's Text and Commentary (1976-77) consists of drawings, loom weavings and five video monitors that document their manufacture. Interested in the historic marginalisation of of women's creativity into textile production Korot recognised parallels in digital technology, describing the loom as 'the first computer on the face of the earth.'

Another political perspective is provided by Lee Friedlander, whose series of photographs record the ambivalent expressions of the predominantly female workers engaged in tiresome work on computer terminals in the Midwest, in the mid-1980s.
Other women in the emerging computer industry appeared to have had more fun. Plotted graph paper drawings by Susan Kare describe, in pixels, a skull and bones, creeping bugs and a leaping frog: early, unrealised designs for computer screen icons. Meanwhile, some artists in the exhibition used actual computers as tools such as Stan Vanderbeek who, working with programmer Ken Knowlton, produced five minutes of pixelated psychedelia with the film Poemfield No. 1 (1967).

The exhibition is punctuated by impressive hardware including a rather ungainly CM-2 Supercomputer produced by Thinking Machines Corporation in 1987 that appears as a cross between a minimalist sculpture by John McCracken and a Knight Industries Two Thousand (the fictional KITT from the concurrent Knight Rider TV series). More elegant machines include Mario Bellini's Olivetti 'Programma 101' desktop computer from 1965 and early Apple models (the Macintosh XL and 128K Home Computers), the latter reminding us of the technology giant's pioneering designs.
INFORMATION
'Thinking Machines: Art and Design in the Computer Age, 1959-1989' is on view until 8 April. For more information, visit the MoMA website (opens in new tab)
ADDRESS
MoMA
11 W 53rd Street
New York
VIEW GOOGLE MAPS (opens in new tab)