The National Art and Design Saturday Club Summer Show, London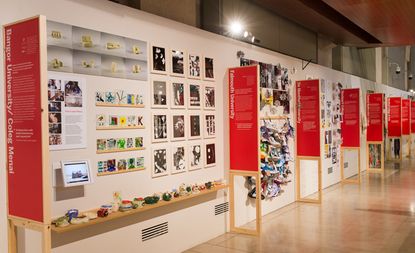 (Image credit: press)
The National Art & Design Saturday Club (opens in new tab) offers young people aged 14 to 16 the chance to tap into art and design courses every Saturday morning at local colleges or universities for free, propelling them along a pathway to higher education, as well as careers in the creative industries. The concept was initiated four year ago by The Sorrell Foundation (opens in new tab), a charitable organisation set up by Sir John and Lady Frances Sorrell, who laid the foundations for the scheme's flourishing contemporary incarnation today.

Over the course of thirty weeks, members delve into disciplines as wide-ranging as drawing, ceramics and sculpture to digital media, photography and product design, as well as visiting London's top museum - the V&A (opens in new tab) - and galleries. Moreover, the Saturday Club offers pupils a chance to attend masterclasses with leading industry figures, such as graphic designer and Pentagram (opens in new tab) partner Domenic Lippa (opens in new tab), artist Antony Gormley (opens in new tab) and designer Thomas Heatherwick (opens in new tab).

This finally cumulates in a showcase of work at Somerset House (opens in new tab) in their own Summer Show, casting the spotlight on the artistic output of the hundreds of teenagers who partake in the club. At the opening of this year's exhibition, Lady Frances Sorrell announced 'Creative Career Visits', a new initiative for the scheme next year, which will see members visiting creative companies to help guide youngsters in making informed choices as they look towards the future. It'll be another springboard for catapulting them into the creative industries.

We spoke with Sir John Sorrell - who, as well as being co-founder of The Sorrell Foundation, also set up the London Design Festival, is a UK Business Ambassador for the creative industries and has just been named Chairman of University of the Arts London - to find out what inspired the Saturdary Club concept…

Is there an international precedent for this kind of organisation?
It's actually a homegrown idea. There was a government policy in the 1950s, 60s and 70s that introduced the Saturday Club across the country. I went to Saturday Clubs myself, as did Frances [Sorrell], John Hegarty (opens in new tab), Michael Foreman, and Christopher Lebrun (opens in new tab). We set up the National Art & Design Saturday Club to revive what was a brilliant idea and which catapulted the careers of many leading figures in the creative industry. And now we are being asked by countries all over the world if we can help them replicate it.

Why didn't it keep going?
As far as I can tell, it stopped around the 1970s. Government cuts, perhaps? I've never been able to understand why.

What is different about what you are offering today?
What makes this different is that we have created a national network for it. There are 26 different colleges and universities (and one museum) involved across the country and we expect this to go above 30 in the next academic year. Once a year we bring all the tutors together to discuss best practice, and we bring the kids to London to visit all the galleries.

It's about giving young people 'a look in the kitchen', as my wife says. And to hopefully help them to take forward a love of the arts into their careers, no matter what they do. The age of 14 to 16 is a very important one to target because it's an age when a lot of people drop out of these subjects. The classes are providing about 100 hours of extra tuition throughout the academic year.

How is the show at Somerset House curated?
The tutors of each college or university decide what goes in, but the rules are that every young person who attends the clubs has to be represented. All of the people are presented with a certificate of involvement. It's like a mini graduation.

Where did you go to college?
I went to Hornsey College of Art (opens in new tab) in North London, which has now been swallowed up by Middlesex University (opens in new tab). My education was absolutely amazing. I was taught by brilliant people, including Bridget Riley (opens in new tab). Every single day there was a tutor in the room. You learned fast and you learned about the importance of working hard and the total joy of creativity. I went to art school when I was 16 and started my own business at 19.

How do you think the UK government can improve its teaching in the creative arts?
We believe that art and design needs to be taught very well at schools, at both primary and secondary stages and all the way through to higher education. We want to see a seamless pathway all the way through to careers in the industry, for those for which it is their vocation. We'd like to see art, design and technology rolled together as they are so closely related. It helps to have an understanding of different disciplines. If we manage to get it right, we have an opportunity to be the greatest creative nation in the world.
ADDRESS
Somerset House
Strand
London WC2R 1LA
VIEW GOOGLE MAPS (opens in new tab)