Design and dance collide in a new performance installation at the Barbican Centre
Design and dance collide in a new performance installation at the Barbican Centre
Aby Warburg's art theory epic Mnemosyne Atlas isn't the top of most people's reading list. Thankfully, it was at the top of artist Jeremy Millar's. When he mentioned it to choreographer Siobhan Davies, she revisited the Atlas' colourful pages, and was moved to use them as the basis for her latest performance.
Held in The Curve gallery, which arches around the Barbican Centre's ground floor, the exhibition draws on Warburg's practise of collecting symbolic images from different times and places, discovering hidden connections between them. Davies applies this idea by linking the work of an eclectic bunch of contemporary artists and performers, including Millar, conceptual artist Efrosini Protopapa, and London-based design duo Glithero. The performance is an extension of Davies' contribution to Doug Aitkin's epic 'Station-to-Station: A 30-Day Happening' which took place at the Barbican in the summer of 2015.
Siobhan Davies Dance material rearranged for the Barbican's Curve gallery. Photography: Ian Gavan/Getty Images
Davies was keen to discover how a group of artists could interact within the same space. 'This is why I wanted artists of different disciplines to work together,' she explains. 'I wanted us to inhabit a gallery, making choices, while allowing the audience to make their own choices too.'
Indeed, the audience can move and interact in whichever way they please - in shoulder-brushing proximity to the dancers. Dressed in everyday clothes, the dancers blend into the audience, before slipping into abstract flourishes of movement. They manoeuvrer between screens and movable walls, upon which a live-stream of films and photographs of the dancers are projected. These screens serve to divide the curved gallery, making the audience curious to see what's happening concurrently, just around the corner.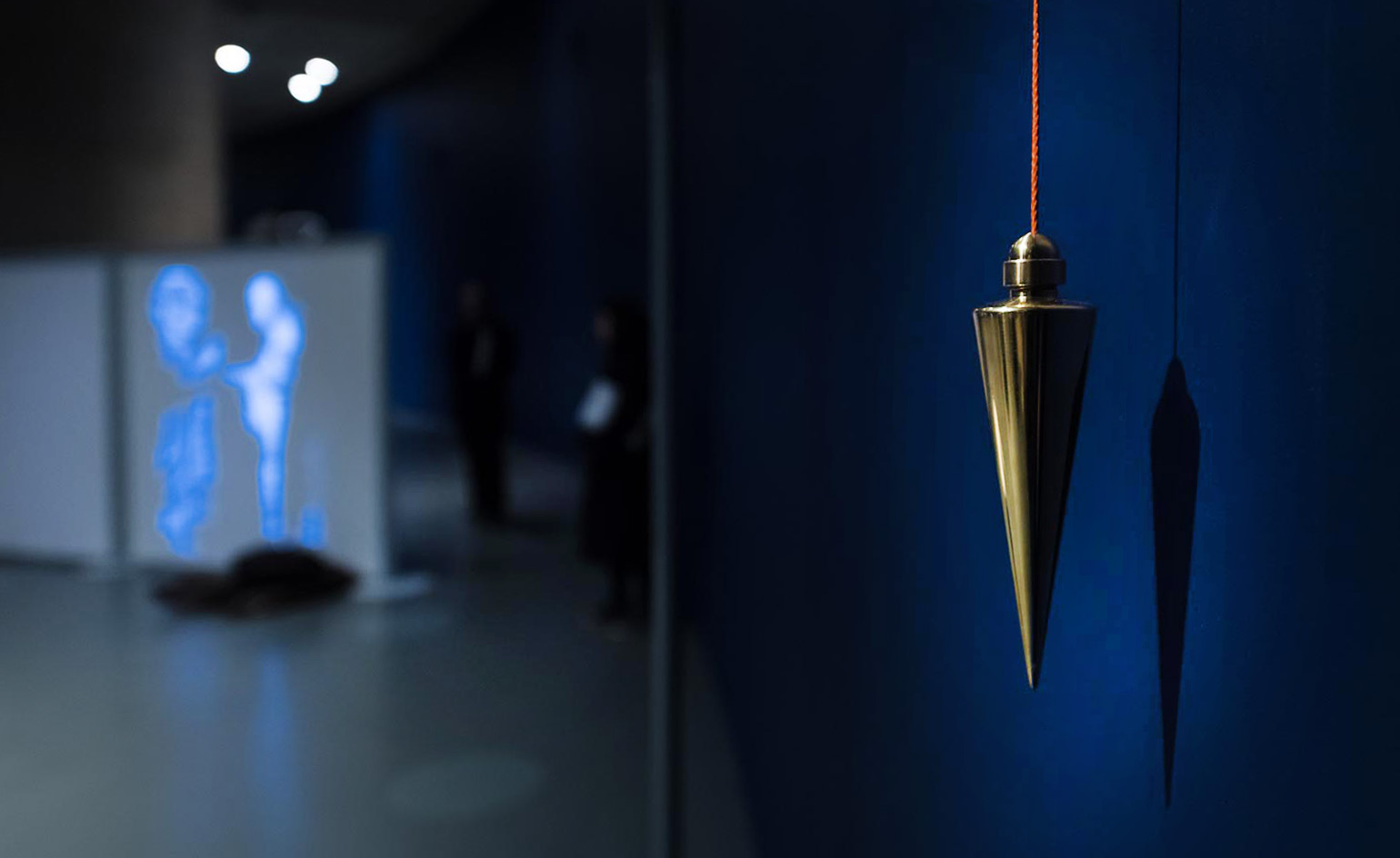 Installation view of 'Datum', by Glithero, 2017. Photography: Ian Gavan/Getty Images
Tim Simpson and Sarah van Gameren of Glithero open and close the show with their 'plumb bobs' - created specifically for the installation. These weighted, tapered silver ornaments are suspended from the ceiling by string, causing a pendulum-like focal point for the dancers to work around, enhanced by a moody, metronomic backing track. Davies explains how keen she was to have the duo on board. 'They're an extraordinary pair,' she says. 'They see dancing as drawing.'
But here they decided to take it one step further still. They said, 'why not literally make a mark in the space?' In response to this, Davies and her dance partner delicately skirt across the gallery's curved wall, tracing a parabolic line of chalk on the floor as they go. Although you don't realise it until the end, the two pendulums are being visually linked by this dusty line. The result is intriguingly therapeutic.
'Datum', by Glithero, 2017. Photography: Pari Naderi
In an age when we're seeing a lift in the quality of design-dance collaborations (think Wayne McGregor, OMA and Rick Guest) Glithero's intimate partnership with Davies provides a unique perspective on the way performance and design can merge. When Davies was asked why she thought contemporary design was becoming increasingly integrated with dance, she replied, 'Why ever not?'
Information

'material / rearranged / to / be' is on view until 28 January. For more information, visit the Barbican website

Address

The Curve
Barbican Centre
Silk Street
London EC2Y 8DS

View Google Maps