Dual perspectives: 'Steve McQueen' at Marian Goodman Gallery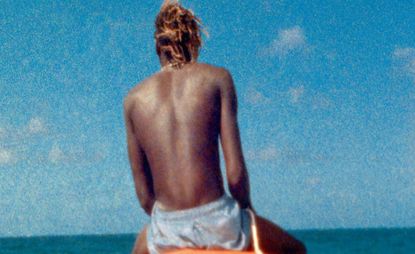 (Image credit: Rebecca Fanuele)
With neon art so au courant, a newly installed work at the Marian Goodman Gallery in Paris featuring 77 unique fixtures that read 'Remember Me' might register at first as a witty bid for attention. But reducing it to an Instagram opportunity would be like judging a book by its cover. For starters, the piece was conceived by Oscar-winning director Steve McQueen, whose roster of films—Hunger, Shame, 12 Years a Slave—depict complicated and uncomfortable aspects of the human condition.

As his fifth solo exhibition with Goodman, the show centres around the true story of Ashes, a young man from Grenada whose life and death are represented simultaneously in a darkened lower-level gallery. Footage of him seemingly carefree on the bow of a boat dates back to 2002, when he was filmed live by cinematographer Robby Muller for a separate work. The flip side of the suspended screen reveals a hilly cemetery where craftsmen have been tasked with erecting Ashes' gravestone. The double projection places the viewer in a destabilising limbo: watch both scenes in their entirety? Shift back and forth between them? Wonder what transpired between the two moments? The artist director supplements his narrative with two explanatory devices: fragmented voice-over testimonials and takeaway posters of Ashes, with the transcribed dialogue scrolling across his grainy image.

McQueen, who was awarded the Turner Prize in 1999 and represented Britain at the Venice Biennale a decade later, opted not to take questions about the exhibition. But writer Jean Fisher notes in the accompanying text how the film channels the late modern French philosopher Michel Foucault's notion of 'heterotopia' which explores how spaces can exist in an undefined dimension, like an imprecise mental-physical state, neither here nor there.

And as much as this applies, it doesn't fully account for the immersive experience here, which for some, may also engage the emotions. For when viewers emerge from Ashes' story – literally by climbing the set of stairs – the neon fixtures appear different. Coated in dark paint and backlit, they register like illuminated silhouettes, each handwriting example (McQueen's included) standing for an individual whose story remains unknown.
INFORMATION
'Steve McQueen' is on view until 27 February. For more information, visit Marian Goodman Gallery's website (opens in new tab)
Courtesy the artist and Marian Goodman Gallery
ADDRESS
Marian Goodman Gallery
79 rue du Temple
75003 Paris
VIEW GOOGLE MAPS (opens in new tab)