Biennale de l'Image en Mouvement: radical reflections on surreal times
At Centre d'Art Contemporain, Geneva, the Biennale de l'Image en Mouvement 2021 kicks off with group show 'A Goodbye Letter, A Love Call, A Wake Up Song', a full house of subversive moving image commissions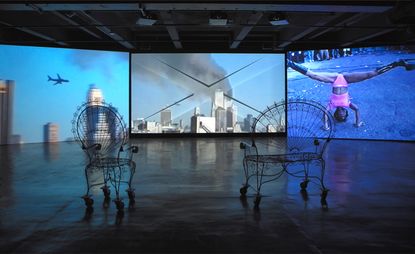 (Image credit: Photo by Dario Lasagni. All artwork courtesy the artist and Red Bull Arts)
The Biennale de l'Image en Mouvement, delayed by a year by the pandemic, is a unique event in more ways than one. Since director of the Centre d'Art Contemporain Genève, Andrea Bellini, took over in 2012, all the featured work has been commissioned specifically for the biennial. Each iteration is co-curated by Bellini and an outside curator of his choosing, this time the New York-based collective DIS.
'I think the big difference between DIS and all the other curators in the art world is that they have a constant dialogue with the artists they work with, it's a family, it's a community,' Bellini says.
'A Goodbye Letter, A Love Call, A Wake Up Song' comprises 15 works, the majority of which have been made during the pandemic, satisfying a need to mirror the moment, unprecedented in our lifetimes. Artists including Camille Henrot, Juliana Huxtable & Hannah Black, Telfar, Will Benedict & Steffen Jørgensen, Mandy Harris Williams, and Leah Hennessey & Emily Allan raise questions about hierarchies, in terms of identity, finance, race, gender and even species.
According to Lauren Boyle of DIS, the curatorial process was a fluid one, as film is a collaborative medium, which led to a cross-pollination as some artists contributed to each other's work. As a result, there is a consensus in the messages behind the works.
The industrial space has been divided up to embody a 'hotel' for the art on view, with each installation inhabiting its own room with a small porthole you can peer through before entering. The dark curtained corridors are dimly lit by works from Grau's Fire, 2021, a series of light sculptures. Large lozenge-shaped, throbbing orbs of red and blue light guide you through the hotel. This evokes a feeling of existing inside a screen, as the works play with the sense of reality as they mark the way through the darkness from film to film.
Everything But The World, 2021 created by DIS, defies the nebulous space we have until now occupied. A historical tour guide deconstructs ideas about feminism and witchcraft, satirical internet personalities Wit and Banter ask us if we know 'that most fossils are actually unhappy with their condition', and a White Castle burger-joint drive-through operator lectures his customers about late-stage capitalism as they wait for their food. An overarching narrative is provided by artist and filmmaker Leilah Weinraub, who plays the role of Shock Jock, leaving us with the question 'Why are you mad?'
The sending up of manifesto and performative identity is a common theme. Mandy Harris Williams' Couture Critiques looks at performative intellectualism, asking why we need to perform ideas and what doing this via social media can do to their content and meaning.
Juliana Huxtable & Hannah Black and And Or Forever debunk the hierarchy of species in Penumbra, 2021, a reworking of the original play staged at Performance Space New York. Elsewhere, Simon Fujiwara talks about identity politics outside the digital space in Who is Who? 2021, and Will Benedict & Steffen Jørgensen tackle our relationship with food and digestion. Leah Hennessey & Emily Allan's film Illuminati Detectives in which Byron and Shelley investigate the paranormal for the Illuminati brings some serious laughs.
All the works, although often laced with humour, challenge the infrastructure of our lives and inherent identities – from Akeem Smith's Social Cohesiveness, and Telfar's TELFARTV, 2021 a live stream, to Theo Anthony's exploration of the narrative of police body-cam footage. Anthony's project is serialised on DIS.art, where there are continuations of certain works.

There is something deeply liberating about experiencing work dealing with themes brought into relief by the pandemic. Whether overloading, confusing, life re-assessing, identity re-evaluating or simply offering a chance to step back, universal questions are captivatingly parsed through this exhibition.
INFORMATION
Biennale de l'Image en Mouvement 2021: 'A Goodbye Letter, A Love Call, A Wake Up Song', until 30 January, Centre d'Art Contemporain Genève. centre.ch
Receive our daily digest of inspiration, escapism and design stories from around the world direct to your inbox