Steve McQueen's 'Sunshine State' illuminates the cavernous halls of Milan's Pirelli HangarBicocca
At Pirelli HangarBicocca in Milan, acclaimed artist and filmmaker Steve McQueen unveils the world premiere of the video installation, Sunshine State, staged alongside iconic works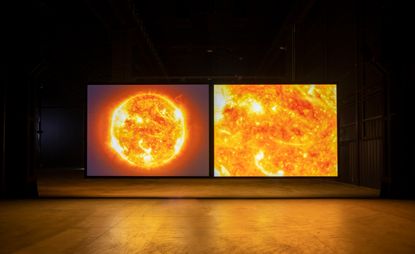 (Image credit: Thomas Dane Gallery, Marian Goodman Gallery and Pirelli HangarBicocca, Milan Photo Agostino Osio)
Steve McQueen's 'Sunshine State' is a new exhibition at Pirelli HangarBicocca in Milan. It follows on from the Turner Prize-winning artist and Oscar-winning filmmaker's major 2020 show at Tate Modern, which, although well-received, was only open for a month due to UK lockdown restrictions. McQueen's Milan exhibition echoes the Tate show, but includes one new work that has been twenty years in the making; a personal film that ties together a long-burning idea and a life-changing experience for the artist.

The former train depot that is now Pirelli HangarBicocca is a cavernous 15,000 sqm space with ceilings several storeys high and is illuminated almost solely by the light of McQueen's films, which extend across the Navate space and the exterior.
The show includes seven works, six films and one sculpture and was curated by Vincente Todolí who makes full use of the height and breadth of the building. Creating a narrative arch from Static (2009) which hangs above the entrance to the space, to the intensely intimate works Charlotte (2004), a close-up study of Charlotte Rampling's hooded eye, and Cold Breath (1999) in which the artist touches his own nipple mixing the erotic, compulsive and violent.

McQueen's new film and the main event is Sunshine State (2022), visible throughout the space. The double channel, four-screen installation emits the sound of the artists' voice telling a story, spliced and fragmented and paired with visuals from the 1920s black and white film The Jazz Singer about a musician who performs in blackface.
'It's kind of interesting how things kind of come to be, with Sunshine State, the first thing that happened was 17 years ago, or more it must be about 20 years ago,' said McQueen of the process of making the work. 'I wanted to use the film, The Jazz Singer; I had this idea of him erasing himself as he applied the makeup. I was thinking about Ralph Ellison's Invisible Man and the erasure of myth.'

The project stalled as McQueen was unable to obtain the rights to The Jazz Singer, but as they recently became available he could finally embark upon the work he had waited two decades to tackle.

'In the last two years, I was able to use it and got the rights but within those 20 years, my father died.' Just before he passed away, McQueen's father told him a story. While picking oranges as a casual labourer in Florida, McQueen's father snuck out with two men one evening to get a beer. They were met with a violent, racist confrontation that left him hiding alone in a ditch until he felt he could walk back to his lodgings; he never saw the two men again. The film fragments and repeats the story alternating the black and white film with two close-ups of the burning sun, the surface alive with heat and flames. The dialogue ends with the phrase '… I thought my father was holding back but he was holding me tight.'
'What was interesting for me was how this film, The Jazz Singer, and my father's story now merged and then there was the intimacy of that,' he said on being asked why he transformed this story into an artwork. 'To me, it was about a story which my father told me, so it wasn't about a series [or] a feature film. It was about when you hear a story and images come into your mind. That's what I was feeling because I had no idea this happened to my father', McQueen continues. 'So somehow those two things came together.'

Alongside the film is a sculptural work Moonlit (2016), which features two chunks of a Chicxulub-type meteorite: a physical manifestation of a cataclysm.

Experiencing the work in this vast space set among iconic pieces such as Carib's Leap (2002) and the Western Deep (2002) photographed down the Tau Tona gold mine in South Africa adds new dimensions to McQueen's multifaceted art.
INFORMATION
Steve McQueen 'Sunshine State', until 31 July 2022, Pirelli HangarBicocca, Milan. pirellihangarbicocca.org (opens in new tab)