Steve Harries takes us from stem to stem in a new series of botanical Polaroids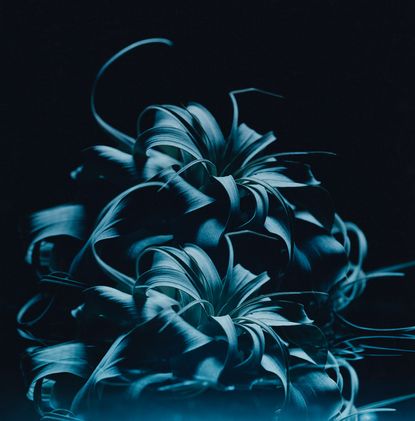 (Image credit: Steve Harries)
In the mid-19th century, Anna Atkins – a botanist and photographer from Kent – published the first book with photographs as illustrations, in a guide to British algae, ferns and flowering plants.

Some 160 years later and the relationship between botany, books and photography hasn't wilted: London-based photographer Steve Harries addresses a British botanical heritage in new publication – Studio Botanical – containing 44 pages of 23 varieties of plants that prove there are still new ways to capture natural forms and foliage on camera.

While Atkins' early cyanotypes were intended to be didactic and descriptive, Harries' pursuit comes out of a more whimsical rapture, and with the addition of colour (the book is resplendent with vermillion, mauve and turquoise shades). 'With such a familiar area of study, the aim was to search for a fresh shade of expression, through nuances of movement, repetition or sequence.' Harries says.
'Traditional botanical journals were an obvious inspiration, and it's hard to not find yourself simply recording the delicate beauty of a flower,' he adds. 'However, it was important that the series should be a modern interpretation – a book which which does more to inform of the photographic process in the studio than the botanical one in the field.'

Using dramatic inflections that recall his Cinema series, and the techniques he developed for filming motion in his film about Kat Driscoll, the Olympic trampolinist, Harries' photographs on botany are no less experimental than the nature mortes of his Victorian predecessors, and they depend equally on the chemistry of the photographic method. Botany becomes art and photography, a science.

'Unlike an encyclopedia, Studio Botanical seeks to provide an insight into the photographic process in the studio, rather than the botanical one in the end,' Harries says. 'Selected images are referenced in the appendix by Polaroids, viewed actual size, front and back, complete with notes to illustrate in part my personal process of making the images.'

Studio Botanical is self-published by Harries, and launches at Webber Gallery London on 20 July. Atkins' work, meanwhile, is included in 'New Realities: Photography in the Nineteenth Century', at the Rijksmuseum, Amsterdam until September.
INFORMATION
For more information, visit Steve Harries' website (opens in new tab)
Charlotte Jansen is a journalist and the author of two books on photography, Girl on Girl (2017) and Photography Now (2021). She is commissioning editor at Elephant magazine and has written on contemporary art and culture for The Guardian, the Financial Times, ELLE, the British Journal of Photography, Frieze and Artsy. Jansen is also presenter of Dior Talks podcast series, The Female Gaze.
With contributions from