Stephanie Pfriender Stylander peels back the glossy veneer of the silver screen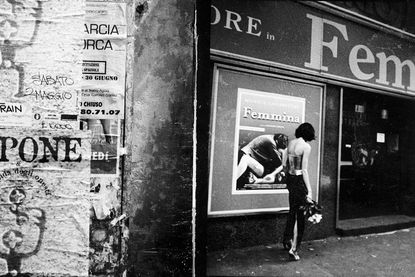 (Image credit: Stephanie Pfriender Stylander)
Over the past 25 years, the photography of Stephanie Pfriender Stylander has adorned the pages of prominent publications such as Interview, French Glamour and British GQ, capturing celebrities ranging from Heath Ledger and Nicole Kidman to Björk and Lenny Kravitz vividly on film. Perhaps her most memorable subject has been supermodel Kate Moss, who graces the cover of the New York-based photographer's forthcoming monograph, The Untamed Eye, due out early September.

Designed by Takaaki Matsumoto, the book will feature 130 of Pfriender Stylander's fashion and celebrity photographs. In the words of the photographer herself, the images are 'atmospheric, cinematic, emotional, dark in mood, and beauty is fueled by character'.

Pfriender Stylander's cinematic vision has its roots in her several years in Paris, where she would often visit small, intimate cinemas along the Champs-Élysées. It was there she was exposed to ambiguous narratives, and fearless actors, developing an interest in the internal worlds harboured by their façades. 'Everything on the screen was poetic, seductive, mysterious, achingly beautiful,' she recalls. 'The human story, filled with imperfections, the realities of life, was what drew me to make pictures'.
The films that inspired her ranged from Italian neorealism to the French new wave in Europe, great masters Luchino Visconti, Federico Fellini, Jean-Luc Godard and François Truffaut, as well as the Greek-American actor John Cassavetes. In a time when everything had a glossy veneer in the US, what particularly drew her attention was that Cassavetes penetrated deeper, revealing a vulnerability behind the bright lights. Her aesthetic is thus one of 'gritty realism', with big close-ups, grainy film, deep dark-lined eyes, creased foreheads and dusty landscapes.

Pfriender Stylander pays particular attention to the use of metaphor in her work, beginning with the story, to the style, casting, location, direction, and technique. At the end of her book is a little text written by the photographer herself, made up of cryptic phrases all starting with 'did I tell you...' – with the incessant past tense, she evokes memories of the places and times in which she took her photos. 'Did I tell you the moon was full and bounced across the dark sky lighting up the bedsheets filled with pages of paper and word,' reads one. 'Did I tell you I saw magic', goes another.

In a way, The Untamed Eye preserves the state of photography from two decades ago, before the digital revolution disrupted the way we create and view images. Pfriender Stylander speaks effusively about the liberty she was given by major publications that would commission her to create 15-page editorials – such freedom has become scarce in our time. What we see in this monograph is the mystical 'magic' that the photographer repeatedly extols – the magic of photographing icons and legends, of working in film, of anticipation, and of waiting for the pictures to develop in the darkroom.
INFORMATION
The Untamed Eye, $45, published by MW Editions. The first book signing will take place at Staley-Wise Gallery, New York, on 12 September. An exhibition at La Galerie de l'Instant, Paris, is on view 10 September – 28 November, with a vernissage on 27 September and book signing on 29 September. Another book signing will take place at Morrison Hotel Gallery, Los Angeles, in November (date TBC)