Freeze frame: inside Sebastian Errazuriz's Art Basel lounge for Audemars Piguet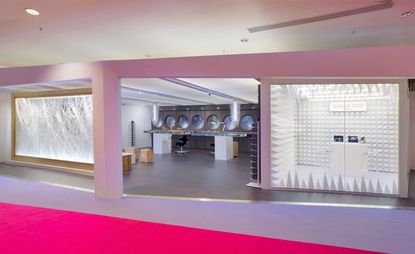 (Image credit: Sebastian Errazuriz)
Now in its fourth year, Art Basel Hong Kong has established itself as a firm fixture on the art fair circuit. In between cocktail parties, satellite exhibitions and high-powered art deals, navigating the boundless booths in the Hong Kong Convention and Exhibition Centre's vast halls can be daunting – and exhausting.

There were few places to escape the bustle of the fair more inviting than the latest iteration of Audemars Piguet's Collectors Lounge, this year conceived by New York-based, Chilean artist Sebastian Errazuriz, who inherits the mantle from French designer Mathieu Lehanneur.

'The booth is designed as a series of ideas that work together as a juggling act,' explained Errazuriz, as he talked us through the space, which draws inspiration from ice formations and the Swiss watchmaker's snowy home in Le Brassus. To wit, the space is divided up into three vignettes (or 'a series of perfect Instagram photos'), each one a distinct act in the Audemars Piguet story.

Errazuriz visited the brand's remote headquarters and was captivated by the watchmakers' solitude during the winter months. 'I really like the idea of thinking of a watchmaker isolated for eight months, seeing the drops suddenly start melting. Not only is it a metaphor for time, but it also says spring is coming,' says the artist. 'The roads would open up – this was their show time.

Visitors were lured in by the façade of the lounge, which comprised a dramatic icicle-inspired installation. 'Ice expands and grows. The shapes that can be so delicate become strong over time. The same way when they melt, you've got the drips function as a "ticking",' Errazuriz adds.
Inside, the brand's watchmakers demonstrated their craft on a pair of cantilevered glass tables, while at either end water dripped slowly into pools from the custom-designed lighting fixtures above, creating a rippled effect. A select few timepieces were showcased behind, in display cases that mimicked alpine rocks in their colour and texture.

An all-white, soundproof room riffed on stalactites and stalagmites with a minimalist bent, created to showcase brand's chiming timepieces. This vault is both beautiful and hostile – a duality in nature that Errazuriz purposely sought to recreate.

The booth also featured striking visuals by British photographer and Audemars Piguet collaborator Dan Holdsworth. The lounge will travel to Basel in June, where it will be expanded for the next edition of the fair.
INFORMATION
Art Basel Hong Kong ran from 24–26 April. For more information, visit Audemars Piguet's website
Receive our daily digest of inspiration, escapism and design stories from around the world direct to your inbox