Designer Mathieu Lehanneur's otherworldly set for Audemars Piguet lands in Art Basel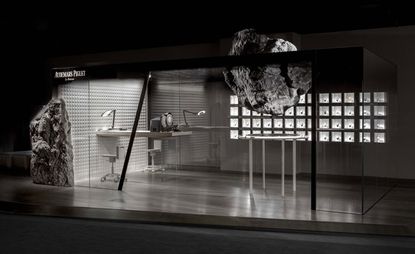 (Image credit: press)
The Collectors' Lounge at Art Basel has become a highly competitive space, where luxury brands - Netjets, Davidoff, Ruinart - endeavour to lure the constant stream of visiting HNWIs (high net worth individuals) to ever more elaborately decorated corners.

Watch company Audemars Piguet had already presented its new Mathieu Lehanneur-designed stage set - clean zones of watch displays interrupted by dramatic papier-mâché boulders - at Art Basel Hong Kong. Transported piece by piece to its Swiss setting, and rather nearer to the location of the brand's mountain headquarters in Le Brassus, it looked very much at home.

'I wanted to show the contrast between the violent nature of the Vallée de Joux, where Audemars is based, and the extreme perfection of the product they make there,' said the Paris-based Lehanneur as we walked through the space, where product is cased in elegant individual boxes lined, unusually, in white. To demonstrate the complexities of the watches themselves, he has created a round display table - a watch face writ large - where the entire process, from the local ferruginous rock to the most intricate of completed internal moving parts, are on show. 'It's like an alphabet,' said Lehanneur of the many stages and pieces.

But the Swiss watchmaker wasn't just here to flaunt its relatively restrained wares (average price: 20,000 euros) to a captive audience. The company also took the opportunity to announce an open-value art commission to be run by guest curator Marc-Olivier Wahler.

Wahler was director of the Palais de Tokyo in Paris from 2006 until 2012, and has a known taste for outsider artists. He is currently firming up a shortlist of artists, who will be invited to spend time at Le Brassus, understanding the brand and the project's potential, before one is chosen to carry on. 'The objective is to produce something that couldn't be done without the support of Audemars Piguet,' said Wahler, 'and possibly to help an artist who functions outside the art market, who is under the radar.' The shortlist will be announced later this year.