Photographer Rowan Corr on home robots: 'We know they're listening'
We look through the lens of photographer Rowan Corr, who was sent deep into the world of home robots for our December 2021 Design & Technology Issue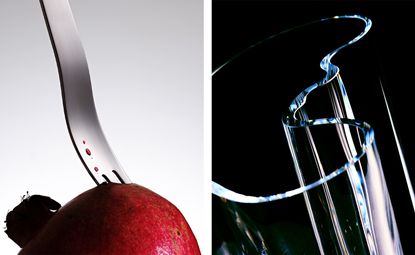 (Image credit: Rowan Corr)
London-based Rowan Corr's early work on fashion editorials and lookbooks, shot almost entirely on film, is a far cry from the slick still lifes he creates using high-end digital equipment today. Corr graduated from London College of Fashion, but it was his time working for Mr Porter and Burberry that set him on track for his current contemporary approach. For Wallpaper's December 2021 issue, Corr turned his analytical eye to tech, creating a conceptual visual response to our story on the rise of the home robot.
Wallpaper*: Describe your style and process
Rowan Corr: I would describe my work as clean, sharp and abstract, but also completely real. Recently, I've been treating my work as more of an investigation into an object: its form and texture and how it interacts with the space and colours that surround it. It's literal, it's graphic and there is a formula to it, but I always try to consider each piece individually so that each photo takes on its own identity.
W*: Tell us about how you brought your way of working to our home robots story
RC: This was a cool concept to interpret as we increasingly live our lives at home surrounded by these 'smart' tech devices. For this piece, I wanted to shoot them in an abstract yet minimal setting whilst subtly inserting other objects from the home to allude to the idea of surveillance. I applied my prescribed style, but I also wanted to use light to emphasise something sinister about the objects. The devices are almost silhouettes, but we see their lights are on and we know they're listening.
W*: What do you think is the most interesting thing happening in photography now?
RC: Continuing on the topic of artificial intelligence, I'm interested in seeing how its role within photography grows. For example, software that uses AI to upscale images. Capabilities like that were unimaginable to me when I started out.
In the same vein, I'm more and more interested in CGI, the sophistication of animations and renders built using software like Cinema 4D and Unreal Engine, and how it continues to advance. My work takes inspiration from CGI renders; looking at a hyper-real image and not knowing how it was produced is something that interests me, and has brought me to the place I am at now in my process.
W*: What's on your radar?
RC: Kit Grill's latest album Fragile has been on heavy rotation recently.
W*: What's next for you this year?
RC: I feel like this year is wrapping up, but in the meantime, I'd love to see my work in a new context and start experimenting with different print processes. Most of my work focuses on picking up tiny details, so it would be great to work with scale and see how far I can push it.
Who knows what will present itself in 2022, but I'm looking forward to finding out.
INFORMATION
Receive our daily digest of inspiration, escapism and design stories from around the world direct to your inbox
As Photography Editor at Wallpaper*, Sophie Gladstone commissions across fashion, interiors, architecture, travel, art, entertaining, beauty & grooming, watches & jewellery, transport and technology. Gladstone also writes about and researches contemporary photography. Alongside her creative commissioning process, she continues her art practice as a photographer, for which she was recently nominated for the Foam Paul Huf Award. And in recognition of her work to date, listed by the British Journal of Photography as 'One to Watch'.
With contributions from