Rashid Johnson unveils gender-fluid jewellery collection
Artist Rashid Johnson collaborates with Lizworks on a fine jewellery collection featuring artworks from his Anxious Men series. This article is a preview from Wallpaper's October 2020 issue, on newsstands from 17 September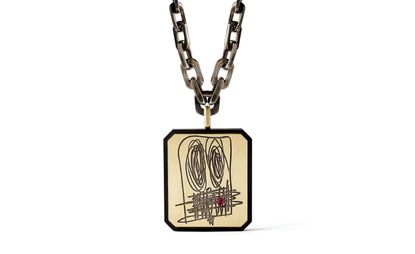 (Image credit: Thomas Kletecka)
'Still to this day I cannot figure out how to describe what I do in one sentence. It is jewellery, it is art, it is wearable. If I could make a new word, like jewelart, or jart, I would!' laughs Liz Swig, the ebullient art collector, patron and founder of Lizworks.

Swig has the trust and ear of many celebrated contemporary artists, and her collaborators include Cindy Sherman, Barbara Kruger and Laurie Simmons. Through Lizworks, she blends traditional and contemporary inspirations, creating limited-edition pieces including porcelain plates, terracotta bowls (W*225), cameos (W*243), and eyewear. In recent years she has become increasingly focused on 'wearables', namely jewellery. This September, she unveils her latest collaboration with Rashid Johnson, which sees artworks from Johnson's Anxious Men series translated into gold and titanium cuffs, rings, dog tag necklaces and pendants. 'I've known Rashid for years – he's exceptional on all levels,' says Swig. 'I'm fascinated with the idea of taking an artist's body of work and bringing it into another medium, jewellery art. The scale and enormity of Rashid's work made it super compelling.'
Having previously worked with many formidable women artists, Swig was intrigued to explore male energy in the world of jewellery. The resulting pieces are described by Swig as 'gender-fluid', and intended to be worn by 'men, women, everybody.'

Swig and Johnson began developing ideas back in December 2019. Their visions quickly aligned: 'He didn't want forty different ideas. He loves rings, necklaces and cuffs, and these are the styles we thought would be a great blank canvas for his work.'
Masculine titanium ('more interesting than silver'), rich gold with 'an unexpected softness', and precious stones including rubies and diamonds are used throughout. Every aspect of production, from the graphic design to the crafting of the jewellery and the creation of the packaging boxes happens in Italy. 'The workmanship and artistry there is unprecedented,' says Swig. Needless to say, the global pandemic created challenges, and yet every piece was as beautifully realised as they hoped. 'I think it's a testament to who I work with,' says Swig. 'Not only are they technically the best, they also soulfully understand your intentions.'

The concept of diminutive, precious yet 'functional' objects feels particularly pertinent as we spend more time around our belongings. Swig concurs: 'Smaller objects that really have meaning, that are unique, that have a past and a future: it's something that people are really gravitating to.'
INFORMATION
The collection will be available for sale exclusively on lizworks.net and Dover Street Market.
A percentage of sales proceeds will go to the Black Mental Health Alliance and Prep for Prep. Johnson will donate 100% of his proceeds to both charities
Rashid Johnson's new exhibition 'Waves' opens on 6 October at Hauser & Wirth, London. hauserwirth.com
Tilly is a British writer, editor and digital consultant based in New York, covering luxury fashion, jewellery, design, culture, art, travel, wellness and more. An alumna of Central Saint Martins, she is Contributing Editor for Wallpaper* and has interviewed a cross section of design legends including Sir David Adjaye, Samuel Ross, Pamela Shamshiri and Piet Oudolf for the magazine.