Running brand On fixes the 'broken experience' of shoe shopping
In a year that pressed pause on the world, high-tech running brand On only gained momentum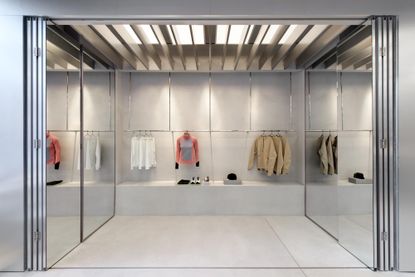 (Image credit: PRESS)
It takes some chutzpah to open a New York flagship store right now, or at least the confidence that you are on a serious roll. But after launching the first fruits of a partnership deal with Roger Federer earlier this year, and with sales sharply up-ticking, the Swiss sportswear brand On definitely has momentum.

Launched just ten years ago with radically pared-back design and a radical new sole technology, the brand now offers 26 different styles, has an expanding apparel range and is slowly and carefully stretching beyond its core road and trail running roots, launching its first streetwear shoe, the Cloudnova, this spring.

The Lafayette Street store, first On store anywhere, showcases the collection but in a suitably clean-lined, purposeful and tech-driven way. And matches just the right amount of retail theatre with friction-free functionality. The centre piece of the new store, designed in collaboration with architect Andreas Bozarth Fornell, is a 62 ft long magic wall which aims to make finding the right pair of shoes fast and fun. One side of the wall is loaded with a video screen backed with all kinds of smart sensors and gait-analysis technology. Customers just have to take a few energetic strides for the tech to establish their exact foot size and volume and which three shoes best match their purpose and particular rock and roll. An avatar of the runner appears on the giant screen, visible to passers-by outside, alongside a text breakdown of their running style (in Helvetica, On co-founder and CEO David Alleman points out. On are very proudly Swiss.)
On the other side of Magic Wall is a complete library of On shoes in all sizes and colours. So no sitting around in your socks while a harried sales assistant rummages around in the storeroom only to discover they haven't got your size. 'We want to fix that broken experience,' says Alleman.

Alleman says the store has something of the science museum about it, combining 'storytelling and technology'. And while materially, the 16,000 sq ft store is heavy on sharp lines, raw aluminum, mirror polished steel, concrete, Oregon pine wood and fibreglass, the architects have added touches of sensorial whimsy with changing rooms alive with the sounds and smells of the Swiss Alps. Another nod to the brand's Alpine roots is a 3D-printed red boulder, a precise replica of a boulder found in the Engadine valley. Customers who hold their smartphones near the boulder can take a deeper dive into the brand's backstory and product info. Alleman says the store will also become a physical starting line and social space for local runners and the brand will organise runs from the store.
RELATED STORY
Other stores in London, Tokyo and Shanghai may follow Alleman says but the brand will see how the New York store performs before making any moves. He acknowledges that the Covid-19-era embrace of running and the outdoors has meant that online sales have been beyond healthy for On. And it has been working with smaller independent stockists hit by the pandemic but not able to fall back on online sales, creating a microsite on the main On site where they can send their customers and still get their cut. 'These stores were great advocates and supported us so we wanted to give something back.'

Next year On is launching the Cyclon, a fully re-cyclable running shoe only available on subscription. Runners can receive a new pair of shoes after 6-9 months as long as they return the first pair. 'There have been a lot of advances in terms of more sustainable shoes,' says Alleman. 'But a lot of people just buy them and keep them but we want to give the shoes a second life.' In fact, the shoes can have multiple lives. After they've done their miles, they can simply be shredded, turned into pellets and used to make new Cyclon or components for other shoes.
INFORMATION
on-running.com (opens in new tab)