Robert Polidori explores 'auto-constructed' cities in his first show at Paul Kasmin Gallery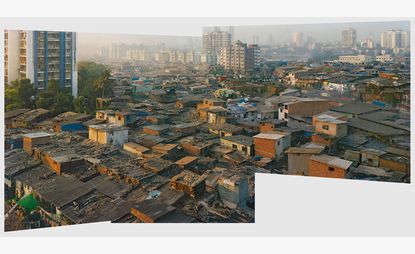 (Image credit: TBC)
In photographer Robert Polidori's inaugural show at the Paul Kasmin Gallery – entitled 'Ecophilia / Chronostasis' – gritty, urban photographs completely envelop the viewer, blocking the surrounding trendy Chelsea neighborhood. Polidori uses 'dendritic' to describe the industrial sprawl captured in this series – a term that more commonly refers to the branching extensions of a biological structure such as a cell or a tree.

This is the first time Polidori's 2007 'dendritic' series is being shown in the United States. In it, the photographer, known for capturing post-disaster scenes in Chernobyl, New Orleans and Havana, turns his lens on Amman, Mumbai and Rio de Janeiro.

'These "auto constructed" cities are constructed (as the term implies) by the inhabitants themselves,' Polidori says. 'I began the series in 1996 when I chanced upon the auto-constructed settlements in Jabal al Qal'a [Amman Citadel]. This whole settlement was constructed within three years by Palestinians expulsed from Kuwait in 1991 and I was amazed by the vast and rapid expansion of this new "organic" urban growth.'

Three enormous photographs of India dominate the space, especially his 12m work, 60 Feet Road which captures an eponymous street in Mumbai. The image is a compilation of 22 separate photographs stitched into one. 'I wanted the piece to be large enough for the viewer to see the myriad details inherent in the image and wide enough to force the viewer to walk by it from end to end as I had to do when I initially photographed it,' Polidori explains.

Also on view is the photographer's 2010 Hotel Petra, a set of images taken of a formerly grand hotel that was nearly destroyed and abandoned in Beirut during the 1980s civil war. Unlike his expansive city photographs, Hotel Petra focuses on specific details of flaked paint and mottled walls, offering up a more poetic perspective of architectural decline. Combined, the two series continue Polidori's exploration of the boundaries between beauty and decay, order and disorder, and the architectural record that encapsulates all of these conditions.
INFORMATION
'Ecophilia / Chronostasis' is on view until 15 October. For more information, visit the Paul Kasmin Gallery website
Photography courtesy the artist and Paul Kasmin Gallery
ADDRESS
Paul Kasmin Gallery
293 10th Avenue
New York, NY 10001