Photographer Fabian Oefner tricks the eye at MAD Gallery in Geneva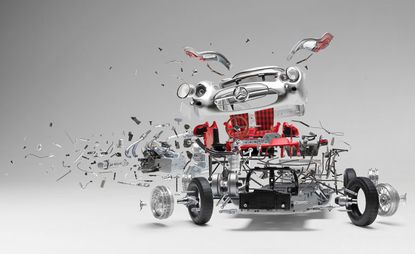 (Image credit: TBC)
Every little boy's dream? Perhaps. But these scrupulously photographed explosions are not at all what they seem. Fabian Oefner, the Swiss photographer acclaimed for capturing unseen micro-seconds in time, has swerved in another direction for these most recent snapshots, on show until May 2014 at Mechanical Art Devices (MAD) in Geneva.

Breaking down his subjects to their individual components, Oefner has manufactured moments of trompe l'oeil by capturing each individual piece separately, then assembling them in 'spontaneous' form. It takes him weeks to achieve each instant on film. Says the artist: 'These are possibly the slowest high-speed images ever captured.'

For his 'Disintegrating' series, Oefner deconstructed model roadsters like a mechanic. The process was 'like peeling an onion,' he says. Then he dangled each screw and panel with needles and wire - more than a thousand in all - for a portrait. In postproduction he superimposed each shot to form the final explosive scene. The 'victims', a 1954 Mercedes 300 SLR Uhlenhaut Coupé, a 1961 Jaguar E-Type and a 1967 Ferrari 330 P4, retain a remarkable grace under fire.

Meanwhile, with 'Hatch', Oefner's follow-up sequence, the artist has machinated the 'birth' of a model 1962 Ferrari 250 GTO from a gypsum shell, like a chick in the nest. This time he smashed the shell and used a microphone to send a signal to his Hasselblad H4D, which captured each reverberating shard.

He repeated the action with dozens of models until the hatching appeared as lifelike as possible. What was in fact painstaking ultimately appears as an impulsive detonation, a mere push of a button by a mischievous child.
ADDRESS
MAD Gallery
Rue Verdaine 11
1204 Geneva